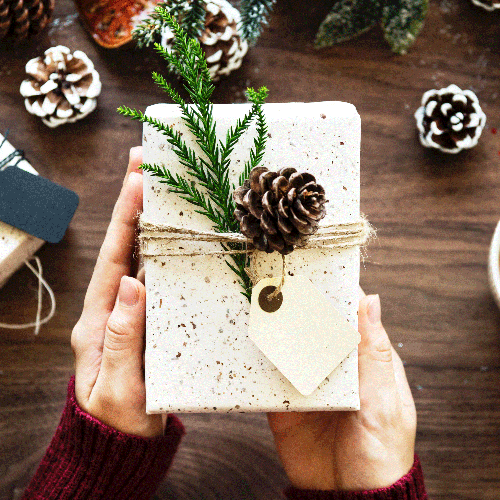 Looking for the perfect tea related gift this year? Whether you're looking for a tea newbie or a tea connoisseur, we have some suggestions for everyone.
Shanti Tea offers a few sample packs that offer something for everyone. Check them out if the following suggestions don't quite fit for the person you are looking for, or if you are looking for a $25.00 or under gift that offers some variety.
Tea Newbie
The tea newbie may have just gotten into tea, or perhaps you consider someone who has only drank bagged grocery store tea dust and fannings to be a loose leaf tea newbie. Either way, the tea newbie may be interested in loose leaf, high-quality tea, or just always comments on how amazing your tea is when they visit. Consider gifts that make loose tea brewing easier, along with your favourite loose leaf tea, or a variety of samples of some teas you think that person may enjoy. You may also want to start off with baby steps - think biodegradable pyramid teabags. Pyramid teabags are the best option for convenience. They allow the tea leaves to expand, no compromise on complexity.
Tea Lover
A tea lover may be either really easy, or really tricky to shop for. What makes it tricky is if you don't know what kinds of teas they like. If you know that he/she loves green tea, easy! Order one or a small selection of green teas, ideally unique teas like Mao Feng or Imperial Dragonwell. Alternatively, if you know the taste preference of the person you are buying for, think of teas you really love, and see if that might line up with their tastes. Email us at info@shanitea.ca for advice if needed!
Also, check out this adorable elephant mug (can you tell we love elephants?) with a space for your teabag
If you don't know her/his preference, here are a few tips:
Do you know about any food or fragrance preferences this person has? This can tell you a lot about your tea lover. For example, if the person loves sweets, go for something sweet. If the person tends to go for simple, classic food items, you may want to play it safe and go with a selection of black teas like Assam TGFOP and Darjeeling Black. If you know the person is sensitive to fragrance, don't choose a flavoured tea, or something like peppermint or Midnight Jasmine (unless you happen to know that she/he LOVE peppermint or jasmine). Whisky lover? Try Wuyi Rock or Lapsang Souchong.
Tea Connoisseur
Those on your list that have a taste for exceptional teas and are quite knowledgeable about it, we suggest something more whimsical! It can be tough to choose a tea for a tea connoisseur. What about a cute tea infuser , a fun tea canvas bag or this one, or a DIY tea cozy? What about Something to do while your tea connoisseur is drinking tea, like the meditative ritual of caring for a bonsai tree? Surprisingly, these can be ordered online. If you order one, or have ordered one, to be shipped, let us know how it went! If you're really interested in getting a gift of tea, we suggest Ceremonial Matcha, ours is an exceptional quality that is typically not found in North American markets, and if your tea connoisseur loves matcha, it would be perfect, and if she/he hasn't tried matcha, what better way to introduce them than with a unique and exceptional matcha like this one.
Foodie
Is your tea lover a foodie as well? How about some teas that she/he can drink and cook with? You can cook with any tea, but a few are perfectly suited for adding unique flavours to food. Lapsang Souchong, Wuyi Rock, Midnight Jasmine, Matcha are a few to start with.
Family Person
Someone with kids on your list? How about some delicious, caffeine-free teas that can be made hot or iced that people of all ages can enjoy? Banana Bread, Vata Balance, Apple Crumble, African Mint
We also like to use some of the following teas instead of juice for kids, and they love it!
Merry Berry, African Carnival, Black Currant Rooibos, Pomegranate Tulsi
Cocktail Lover
Does your tea lover also love delicious cocktails? If so, try our selection Teatails, teas in tins that are perfect for making into cocktails. We love them all, and your cocktail-loving friends/family will love them too! You'll be surprised how much tea elevates the flaovurs in cocktails, and how simple they are to prepare.