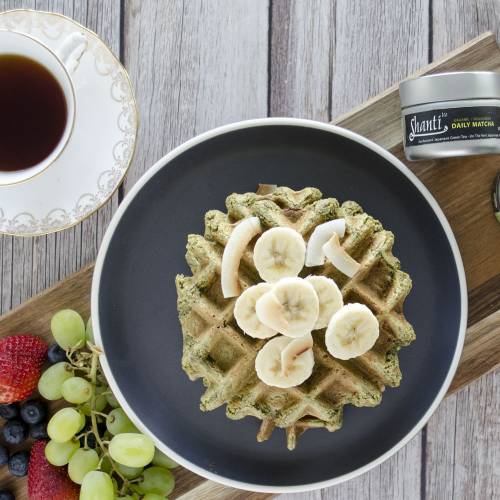 Do you love waffles? Do you love matcha? Then you're going to love these matcha waffles.
We've pictured the waffles with fresh fruits, but they are great savoury too. Matcha adds a grassy, nutty, earthy flavour to waffles, perfect for savoury toppings Top with an egg, fried chicken or tofu, asparagus, smoked salmon, or a combination of all of the above - those all pair wonderfully well with these waffles.
Into sweets? The options are endless. Chocolate chips, cacao powder, blueberries (any berries), fruits, maple syrup, jams, nut butter, whipped cream... You could add a bit of peppermint extract to the batter with chocolate chips for a matcha mint chip. Or apples and cinnamon.
Let us know in the comments what your favourite waffle toppings are!

Tea pairing: You might think matcha is the best pairing, but we suggest a nice clean black tea such as Darjeeling First Flush. It will enhance the sweet notes without overwhelming the flavours matcha adds to the waffles. And the sweet notes in the waffles will bring out a subtle earthy, fruity note in the black tea.

Matcha Waffle Recipe
Ingredients:
2 tbsp ground flax seed
5 tbsp water
1 ½ cups cashew milk or milk of choice
1 tbsp apple cider vinegar
1 ½ cup oat flour
1 tbsp baking powder
1 tbsp matcha powder
½ tsp salt
3 tbsp granulated sugar or coconut sugar
¼ cup coconut oil, melted
1 tsp cinnamon powder (optional)
In a small bowl, mix together flax seed and water to make a flax egg. Allow to sit for 5-10 minutes.
In a separate bowl, make a vegan buttermilk, mix together milk and vinegar (if not vegan, you could use buttermilk instead)
In a large bowl, mix together all dry ingredients.
Whisk coconut oil, flax egg and butter"milk", mix well.
Slowly pour liquid ingredients into dry ingredients and whisk to combine. Stir until there are no more clumps.
Pour ½ cup of batter at a time into your waffle maker, or the amount you usually would add. Follow waffle maker instructions. Cook until golden brown.
NOTE: Don't allow the batter to sit once ingredients combine. Oats will slowly start to absorb liquid mixture and thicken. If that happens, add a touch more milk to help liquify.