Wholesale With Shanti
We are one of Canada's leading wholesale tea suppliers, located in Ottawa. We are committed sourcing and supplying the highest quality tea and botanicals; our products are 100% certified organic. We have the capacity to work with small and large businesses, and have also helped many new businesses take their first steps into the tea industry and scale quickly into established brands.
Apply For a Wholesale Account Now
WHO WE WORK WITH
Shanti works directly with tea businesses under their own brand (private label) distributors, cafes, restaurants, hotels, yoga studios and more. All clients have a dedicated account manager and access to specialist advice on which products to sell in their market, branding, trends, packaging and custom blends.
ABOUT SHANTI TEA - EST 2009
Shanti Tea is a values-driven company that discovers and imports carefully selected teas, herbs and spices directly from farms. Over the past 10 years, Shanti Tea has built strong relationships with farmers around the world; we source all our ingredients from organic farms that exist in harmony with their communities and nature. This means, we only source from farms that meet labour laws and environmental best practices. Shanti has grown and evolved as a family-owned business with a continued passion for healthy living, sustainability, and social responsibility. We now carry one of the widest selections of certified organic teas, spices and herbs in North America.
WHAT WE OFFER
Low Minimums
Bulk loose-leaf tea, spices and herbs: 500g
Shanti branded tins or pouches: 8 tins/pouches of 15 teabags or 8 tins/pouches of loose-leaf tea
Bulk Shanti brand teabags are available for our most popular teas: 100 teabags
White label (no logo) teabags are available for most of our loose-leaf teas: 500 teabags
Co-packing of your custom blend or any other loose-leaf teas in white label (no logo) teabags: 1000 teabags
Private Label (your own brand) and Shanti's own retail brand of:
Organic Loose-Leaf Tea
Organic Pre-bagged Tea
Organic Pyramid Bag Tea (Biodegradable, non-GMO, plastic free tea bags)
Organic Pyramid Tea Bags packaged in a customized overwrap/envelope
Organic Matcha
Organic Superfood powders including Acai, Spirulina, Turmeric and Cacao
Business Services
Custom Blending
Co packing
Teabag manufacturing
Packaging options with custom labelling
Organic registration
Custom retail programs
PRIVATE LABEL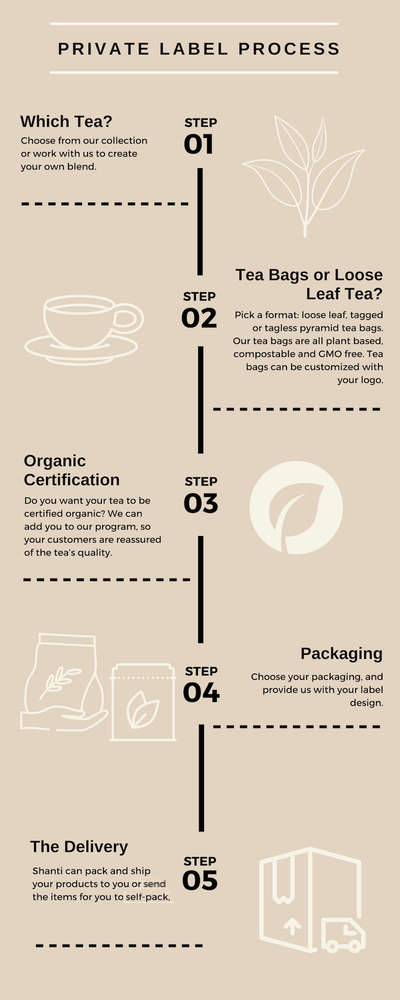 If you are an established tea business and would like to learn more about our service or are starting your tea brand, we can help.
Shanti offers a range of solutions for private label teas, either teas and blends from our own collection, or we can work with you to create custom blends.
The process:
Choose from our tea collection or commission a custom blend.
Pick a format, loose leaf, tagged or tagless pyramid tea bags. Our tea bags are all plant based, compostable and GMO free. Tea bags can be customized with your logo and packed loose, in custom packaging, or as individually wrapped and sealed units (overwraps).
Do you want your tea to be certified organic? We can add you to our program, so your customers are reassured of the tea's quality
Choose your packaging, and provide us with your label design
Shanti can pack and ship your product to you or send the items for you to self pack.
CUSTOM BLENDING
Custom blending is one way to create a unique and competitive product. There are a lot of options for custom blends; our tea sommelier will work with you to design and perfect the perfect blend.
PACKAGING OPTIONS
Our in-house options include pouches, kraft pouches, tins and kraft tubes, which can be packed with loose leaf tea or tea bags and labelled with your own design (or delivered empty if you prefer to pack your own product). If you need a packaging type we don't carry in-house, or have a design for a full print or other custom type of packaging we can source this for you.
ORGANIC REGISTRATION
All Shanti products are 100% organic, but if you want to add an extra level of reassurance for your customers, we can help you with organic registration, enabling you to label your products as certified organic under the Canadian and USA standards.
RETAIL PROGRAM
Our Shanti Tea brand is sold by many wholesale customers in their cafes, hotels, yoga studios and stores. The brand is known for high-quality ingredients, organic products, sustainable practices and support of farms from where we source our teas. Our collection of tins, available in Loose Leaf or Lotus Pyramid Teabags, offers some of our most popular teas.
Our sampler box is another way to encourage your customers to view and smell the blends before making their selection.
TEAWARE
Offering teaware not only improves your customers brewing experience, it can also be marketed to broaden your gift options. We can also source custom teaware and teaware sets for your brand.
Apply For a Wholesale Account Now