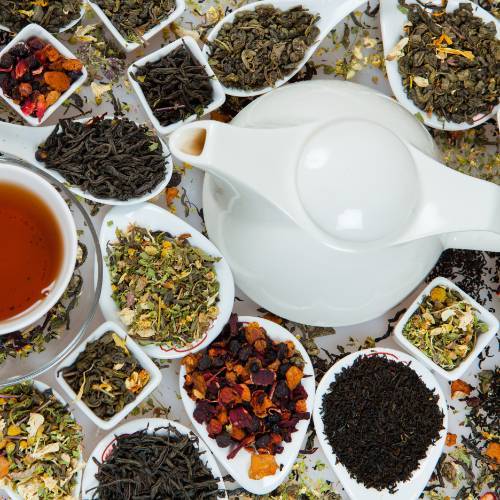 As we start gearing up for summer, the goal is to be as healthy as possible. This can be done through a balanced diet and rigorous exercise. As part of a healthy diet, drinking loose-leaf tea can be one of the most advantageous.
The Many Health Advantages of Loose-Leaf Tea
While the benefits of drinking loose-leaf tea are many, here, we will focus on some of the primary health advantages.
1. Antioxidants
I'm sure you've read that tea is full of antioxidants. But what are the actual benefits of antioxidants? How does it affect your body? What are the outcomes?
According to Healthline, the antioxidants found in tea, such as green tea, can improve brain function, help burn fat, decrease the risk of contracting certain forms of cancer, and lower the risk for heart disease.
"Tea is rich in polyphenols, which are natural compounds that have health benefits, such as reducing inflammation and helping to fight cancer.
Green tea contains a catechin called epigallocatechin-3-gallate (EGCG). Catechins are natural antioxidants that help prevent cell damage and provide other benefits.
These substances can reduce the formation of free radicals in the body, protecting cells and molecules from damage. These free radicals play a role in aging and many types of diseases.
EGCG is one of the most powerful compounds in green tea. Research has tested its ability to help treat various diseases. It appears to be one of the main compounds that gives green tea its medicinal properties"
Some examples of green teas that are perfect for these types of health benefits are Casblanca Mint, Fountain of Youth, and Kukicha.
2. Improved Brain Function
In addition to protecting cells from damage and destroying free radicals, loose-leaf also improves brain function. More precisely, it results in better organized brain regions, including healthy cognitive function, better memory, and a clearer, more focused mind. Our Buddha Focus is a tea blend with these benefits.
According to Science Daily, study performed demonstrated that those that drink tea regularly have better structured brains that function more effectively than non tea drinkers. It also showed to reduce age-related mental decline as much as 50%.
"We have shown in our previous studies that tea drinkers had better cognitive function as compared to non-tea drinkers. Our current results relating to brain network indirectly support our previous findings by showing that the positive effects of regular tea drinking are the result of improved brain organisation brought about by preventing disruption to interregional connections.
Take the analogy of road traffic as an example -- consider brain regions as destinations, while the connections between brain regions are roads. When a road system is better organised, the movement of vehicles and passengers is more efficient and uses less resources. Similarly, when the connections between brain regions are more structured, information processing can be performed more efficiently."
Black teas are perfect for brain function and mental clarity because of the addition of an amino acid called L-theanine. This amino acid increases alpha activity in the brain, which greatly improves focus and alertness. Black teas that are perfect for this are Ancient Forest Black, Nepal Black ( Kanchanjangha Noir ), and Tiramisu.
3. Weight Loss
Weight loss is a major goal for more than 50% of Canadians. In fact, according to Public Health of Canada, as of 2017, 64% of Canadians over the age of 18 are overweight or obese. Additionally, approximately 30% of children ages 5 through 17 are also overweight or obese.
This makes weight loss a struggle with most looking for an aid to help them lose weight. In fact, according to the India Times, white tea has specialized micronutrients that aid in weight loss at a much greater rate than other types of tea.
"White tea is the least processed variety of tea and has the highest fat-burning micronutrients known as polyphenols.
White tea helps in breaking down the fat and prevents the new fat cells from forming. White tea can also boost your metabolism by 4-5 per cent, resulting in burning an extra 70-100 more calories per day."
Some of the best white teas for weight loss are Bright, White Rose, and Snow Maple.
4. Reducing Risk of Heart Disease
Heart disease is the second leading cause of death in Canada. Every year, heart disease results in approximately 77,000 deaths. In fact, the rates have risen from 180 Canadians in 100,000 in 2019 to 247 out of every 100,000 fatalities from heart disease. Reducing the risk of heart disease is a major goal of millions of Canadians.
Among the four main tea types, oolong tea has been found to be the leader when it comes to reducing the risk of heart disease and cardiovascular illnesses nationwide. According to Cambridge University, studies show that oolong tea lowered HDL - cholesterol levels, which reduces the risk for cardiovascular diseases such as heart disease.
"Drinking more than 600 ml (2 paos) of green, oolong or black tea daily was found to be associated with the lowest odds of dyslipidaemia risk (P< 0·001) when compared with non-consumption, but only oolong tea consumption was found to be associated with low HDL-cholesterol levels.
A dose–response relationship between duration of tea consumption and risk of dyslipidaemia (OR 0·10, 95 % CI 0·06, 0·16), as well as that between amount of dried tea leaves brewed and risk of dyslipidaemia (OR 0·34, 95 % CI 0·24, 0·48), was found.
Moreover, consumption of oolong tea for the longest duration was found to be associated with 3·22, 11·99 and 6·69 % lower blood total cholesterol, TAG and LDL-cholesterol levels, respectively."
Some oolong teas that are perfect for possibly lowering the risk for heart disease are Iron Goddess, Wuyi Rock, and Crazy Horse.
In Closing
In summary, drinking loose-leaf tea has a multitude of health benefits that are tangible and have a profound impact on the way your mind and body works. Studies have confirmed the benefits, but more studies are needed to show the wider range of impacts. Start drinking tea regularly and begin feeling better, healthier, and happier. Enjoy!