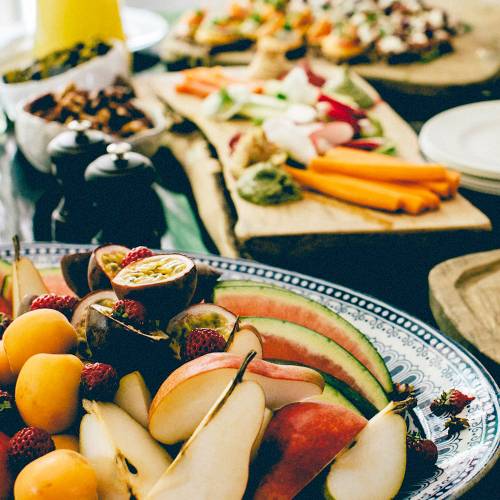 Super Bowl snacks are notorious for being rich, comforting, delicious and hearty. There are so many wonderful recipes available. We've chosen a few that are inspired by our favourite Super Bowl snacks, with a healthier twist and plenty of plant-based options for vegetarians and vegans.
Cut up fruits and veggies, bake pita chips, perhaps make a few sliders and serve up these comforting foods.
Chili
This is a classic and hearty dish. Everyone has their own recipe, here is our favourite!
1 tablespoon coconut oil
1 cup yellow onion, diced
2 garlic cloves, finely chopped
1 pound ground turkey or crumbled tofu for vegan version. We also like to add in a cup of brown lentils for no-meat chili
2 ½ tablespoons chili powder
2 tablespoons ground cumin
1 tablespoons cacao powder
2 tablespoons tomato paste
1 ½ teaspoons salt
½ teaspoon ground black pepper
1 ½ cups veggie broth
2 cups diced tomatoes
1 (16 oz.) can red kidney beans, drained and rinsed
Directions:
Saute onions in coconut oil.
Add turkey and brown the meat. Skip this step if using tofu, see below for optional step.
Optional: Take a pinch of chili powder and crumbled tofu and mix together. Lay flat on a baking sheet and bake at 350º for 15 minutes. Add to chili towards the end of the cooking time. This is optional, you could just add crumbed chili in with all other ingredients, but it gives the tofu a more firm texture.
Add all remaining ingredients to the chili. Cover and cook for 30 minutes on medium-low temperature, or for 3-4 hours in your slow cooker on low heat.

Cheezy Sunflower Seed Dip
Queso is amazing, any cheese lover will tell you that, but queso doesn't always leave you feeling great. Try this sunflower seed dip that is full of flavour and totally plant based!
Ingredients:
1 cup sunflower seeds, soaked for 10 minutes in water
1 orange bell pepper, roughly chopped
1 cup dairy free milk
2 tsp chili powder
¼ cup yellow onion, chopped
¼ cup nutritional yeast
1 clove garlic, chopped
Drain the sunflower seeds from the water and give them a quick rinse.
Put all ingredients in a blender, blend until smooth
Pro tip: Chop up some tomatoes, jalepenos, onion and mix in after blending the cheezy dip for a chunkier version

Buffalo Cauliflower
Can you replace chicken wings? No. But can you make something plant-based that is delicious and loved by all? Yes, definitely.
Ingredients:
1 large head of cauliflower, broken into bite sized florets
½ cup water
½ cup milk of choice
¾ cup all purpose flour
1 tbsp onion powder
1 tbsp garlic powder
1 tsp ground cumin
¼ tsp salt
¼ tsp ground pepper
1 cup Frank's Red Hot sauce
1 tbsp coconut oil or avocado oil
Directions:
Pre-heat oven to 400ºF. Line a baking sheet with parchment paper.
Whisk water, milk, flower and spices together in a large bowl (you're going to be putting the cauliflower in here). Set aside hot sauce and coconut oil for later.
Add cauliflower florets to the bowl. Toss or stir until all florets are fully coated.
Remove one by one, shaking off excess batter, and lay on parchment lined baking sheet in a single layer.
Bake for 15 minutes. Flip over, bake for another 10-15 minutes, or until golden brown.
In a large bowl, whisk together hot sauce and coconut oil (you may need to warm the oil first). Put cauliflower in the bowl and stir well to coat each floret.
Return cauliflower to parchment lined baking sheet. Bake another 10-15 minutes, or until it has reached your desired crispness.
Serve with your favourite creamy dip, these cauliflower bites are spicy!

Maple roasted fruit and seed mix
This is an easy snack to make, and if it doesn't get eaten right away, it will keep for at least a week in an airtight container.
Ingredients:
2 cups of your favourite seeds and nuts. We love pecans, cashews, sunflower seeds, almonds and pepitas.
1 cup of our favourite dried fruits. Try cranberry, goji berries, and raisins.
1 tbsp maple syrup
Salt and pepper to taste
Pre-heat oven to 350ºF. Line a baking sheet with parchment paper.
Mix chili flakes, salt, pepper and maple syrup in a large bowl.
Toss in seeds and nuts, stir well to coat everything.
Lay flat on the baking sheet. Cook for 10 minutes, turning over once halfway through.
TIP: If you have smaller nuts/seeds and larger nuts/seeds, we suggest cooking the larger ones first for 5 minutes before coating in the maple mixture and combining with smaller nuts/seeds.
Remove from oven. Allow to cool for 5 minutes, then mix in your dried fruits. Add some fresh chopped rosemary or other herb if desired.

Date balls
These sweet snacks are perfect for munching on for any sweet tooth.
Ingredients:
Directions:
Place dates in a bowl, cover with water and allow to sit for 30-60 minutes.
While dates are soaking, pulse nuts/seeds in a food processor until broken in small pieces. Set aside.
Drain water, rinse dates.
Transfer dates to food processor, and pulse dates until smooth, but not too smooth. Add ½ cup of shredded coconut, reserving the other half for later. Add all other ingredients, except for nuts. Pulse to combine.
Put remaining coconut flakes in a bowl. Roll date mixture into 1 - 1 ½ inch balls, coat in coconut flakes, and place on a baking sheet.
Leave the baking sheet in the fridge for 30 minutes. This is optional, it will help the balls to harden a bit and make transfering to a container easier.
These will stay good for up to 1 week in an airtight container in your fridge, or one month frozen.

What are your favourite Super Bowl snacks? Healthy or indulgent, we love them all!