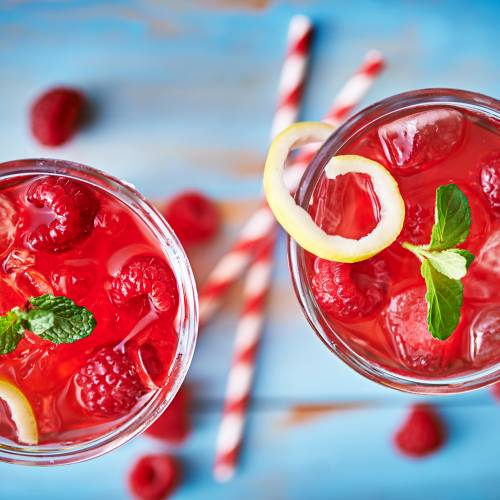 These iced tea cocktails are refreshing, light and easy to make. Combining tea and alcohol is not a new concept, but we're often greeted with surprise when we mention tea cocktails (aka Teatails). Tea is so versatile, there are many flavours available. Iced tea is easy to make. Once you have your iced tea ready, you can use it to make cocktails as usual.
Our favourite methods of preparing teatails are either tea concentrates or tea infused alcohol. We suggest you experiment to find the best option.
Tea concentrate
The great thing about tea concentrates is the versatility. If you don't use it all for your cocktails, you can use it for iced teas, hot teas, smoothies, cooking and more. Just make sure that there is no dust left from the tea at the bottom of your container, as those particles will continue to infuse. By day 2 or 3 your tea concentrate can become bitter. You can also sweeten your concentrate if needed.
To infuse: Take 1 tsp of tea for every 1 oz of hot water and infuse as usual (e.g. black and herbal teas get boiling water and infuse for 2-3 minutes, green, white and oolong should be infused at a lower temperature (70°C) for 2 minutes or less). Allow your concentrate to cool. It will stay good for about one week in the fridge.
Tea infused alcohol
It's easy to quickly infuse tea in alcohol, plus there is no dilution required. Many of our recipes call for adding sparkling water to the alcohol and tea, so you may find that concentrates (if not strong enough) may create a cocktail with a watered down flavour. The solution is to make stronger concentrates or infuse tea directly into the alcohol. One issue with this is the alcohol should be consumed the same day, as dust particles will continue to infuse and create a bitter flavour.
To infuse: Use 1 tsp of tea for every 1 oz of alcohol. Allow to infuse for 30-40 minutes (less time for green teas or other teas that become bitter easily). Remove the tea, and strain the infusion through a cloth or coffee filter. Use to make cocktails as usual. Note: If you do not strain the infusion through a fine mesh, it's okay, but you may find that after only a few hours the infusion starts becoming slightly bitter.
Healthy Cocktails?
Healthy and cocktails kind of sounds like an oxymoron. How healthy can a cocktail really be?
We figure, if you're going to drink alcohol, you can at least cut out all the sugary, chemical laden sodas and artificial juice. Using tea is the healthier option. Shanti Tea has a huge selection of teas, all are organic, sugar-free (except maple teas), vegan, dairy-free, gluten-free and flavoured with natural essences (for those teas which are flavoured). No artificial stuff here!
Wherever you get your teas, we can bet that no matter what, it's better than using sugary sodas.
Plus, we like to think about all the healthy benefits of drinking tea. It's full of antioxidants and other compounds (depending on the type of tea). Surely those must help balance out some of the negative effects of alcohol, right?
On to the recipes! These are a few of our favourites for summer, but the options are endless! Scroll to the bottom to see a helpful list of pairings for different types of alcohol.
Hibiscus Prosecco
The inspiration for this cocktail comes from our Valentine's Day dinner menu! Hibiscus is naturally cooling and refreshing, it adds a pleasant tart flavour with subtle sweetness.
Recipe for 6 cocktails
Ingredients:
6 tsp Hibiscus
3 oz vodka
1 bottle of prosecco
Sweetener if desired
Lemon peel twist for garnish (optional)
Directions:
Combine hibiscus with vodka for 40-60 minutes. Strain out leaves (optional: save the leaves to add as decoration in your cocktails)
If using sweetener, add it to the infused vodka.
Note: you can use ice, but we prefer to fully chill the ingredients instead. Once you have added your sweetener to the vodka infusion, pop it in the freezer to chill quickly.
Fill 6 glasses with prosecco. Add ½ oz of infused vodka to each glass. Add twist if using.
Green Russian
You may have had a White Russian before, but we like things GREEN!
Recipe for 6 cocktails
Ingredients:
9 oz vodka
2 tbsp Matcha
1 tsp sweetener of choice (we used agave)
6 cups milk of choice (we used almond milk)
Directions:
Mix all ingredients together, shake and serve over ice.
Rooibos Peach Sangria
Sangria is a popular summertime drink. Instead of using sugary fruit juices, we use tea, fresh fruit pieces and white wine.
Recipe for 1.5 Liters
Ingredients:
1 bottle of white wine, we suggest a Sauvignon Blanc
½ cup brandy
¼ cup Summer Casanova
1 cup sliced peaches
1 lime, sliced thinly
Optional: sparkling water
Directions:
Infuse Summer Casanova in brandy for 60 minutes. Remove tea and strain the brandy infusion.
Muddle peaches and lime at the bottom of your pitcher. Add 1-2 cups of ice, then pour in the brandy infusion and the white wine. Serve with sparkling water, or as is.
Pomegranate Mojito
Using our beloved Pomegranate Tulsi blend, this mojito gets a delicious twist. Tulsi is an herb from India with a minty, basil flavour. It combines so well with the sweet flavour of pomegranate. The benefit here is a cocktail that is naturally sweet, without any added sugar. You can certainly feel free to add some sweetener if desired.
Recipe for 4 cocktails
Ingredients:
3 tbsp Pomegranate Tulsi
6 oz white rum
1 lime, divided (juice one half, slice the other thinly)
Fresh mint
Sparkling water
Directions:
Infuse Pomegranate Tulsi in rum for 45 minutes. Remove tea and strain the infusion.
Mix rum infusion with lime juice.
Muddle mint and lime slices in tall glasses. Add ice, then add 1.5 oz of your rum/lime/tea infusion and top with sparkling water.
Smoked Maple
Combining two flavourful teas from our collection makes one irresistible cocktail that you'll probably want to drink all year round. This is perfect for cooler evenings.
Recipe for 4 cocktails
Ingredients:
2 tbsp Smoked Maple
1 tbsp Lapsang Souchong
6 oz whisky (we suggest Twelve Barrels, it's a great locally produced whisky that is perfect for blending)
Optional: 1 tbsp maple syrup for extra sweetness.
Sparkling water
Orange peel for garnish
Directions:
Infuse the tea in whisky for 25 minutes. Remove tea leaves and strain the whisky infusion. Add maple now if using.
Place a large ice cube in a short glass. Add 1.5 oz of infused whisky to each glass, top with sparkling water to taste and garnish with an orange peel.
Tea and Alcohol Pairings
How do you choose the right tea to go with your spirit? Or the perfect booze for your favourite tea? If you are familiar with the flavours of different types of alcohol, you likely already have a good idea of what flavours might pair well together.
| | |
| --- | --- |
| Tea Type | Pairs Best With... |
| Black Tea | Whisky. Also pairs well with vodka, brandy, dark rum |
| Green Tea | Vodka. Also pairs well with gin, white rum, silver tequila, beer |
| Dark Oolong | Whisky. Also pairs well with vodka, aged tequila, red wine, beer |
| Light Oolong | Gin. Also pairs well with vodka |
| White Tea | Vodka. White tea is too light in flavour to pair well with other spirits |
| Fruity teas | Rum or vodka. Also pairs well with gin. |
| Chocolate teas | Vodka. Also pairs very well with triple sec, dark rum, aged tequila, stout beer, flavoured liqueurs such as peppermint, coffee, banana |
| Citrus teas | Gin. Also pairs well with vodka, tequila, rum, whisky, light beers, brandy |
| Minty teas | Gin. Also pairs well with vodka, white rum, silver tequila |
This list is not complete! There are so many varieties of teas and so many different types of alcohol. Message us if you have any questions or want help to pair your teas!
Are you looking for tea cocktails for your business?
Shanti Tea has helped many of our customers get a tea cocktail menu started, and we would be thrilled to help you too! Please email info@shantitea.ca to speak with someone about healthy, delicious tea cocktails for your menu.