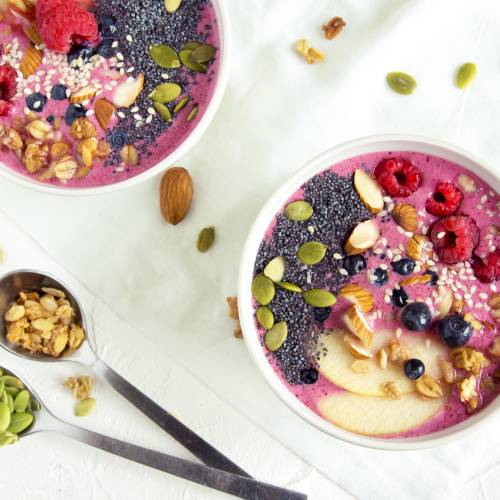 We keep seeing mouth-watering images of smoothie bowls out there, using our organic freeze-dried acai berry powder!
Acai berries are extremely rich in antioxidants, amino acids, fatty acids and dietary fiber. Shanti Tea uses freeze-dried organic acai berry powder, the freeze drying process retains most of the fruits nutrients. Plus, having a powder means it can be easily added to smoothies, baked goods, juices and more.
Besides being rich in antioxidants, here are some of the highlights of this superfood!
Promotes hearth health - The antioxidants and plant sterols in acai berries help improve circulation
Promotes skin health - Foods rich in antixoidants promote good good skin health.
Aids in digestion - Since acai berries are high in fiber, they help to aid the digestive process. 1 tsp of freeze-dried powder contains about 4% of your recommended daily fiber intake
Scroll to the bottom for some of our favourite smoothie bowl toppings!

Smoothie Bowl Recipe
Ingredients:
1 cup frozen berries of choice
½ ripe avocado, diced
2 tbsp acai berry powder
1 tsp chia seeds
1/2 cup milk of choice
1 handful nuts or seeds of choice (optional)
Sweetener if desired
Directions:
Mix all ingredients with a blender. If needed, add extra almond milk. The consistency should result in a similar texture to frozen yogurt.
Top with your favourite fruits, seeds, nuts, granola, nut butter, or dried foods!
Here are some combinations that we love:
Do you want to add acai to your business offering?
Acai smoothie bowls are a popular healthy food item, especially in warmer months. You can also use acai powder a number of other ways. Contact operations@shantitea.ca to learn more! We are happy to help you find ways of integrating this superfood into your menu