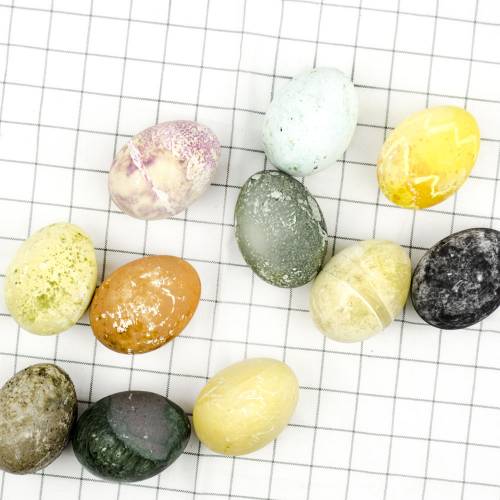 Dying eggs is an old tradition that has been dated as far back as ancient Egypt. Today, there are many dyes used that are harsh and synthetic, usually rendering the eggs inedible. In recent years, our better understanding of harmful dyes has led many people in search of natural alternatives.
Tea, coffee and even wine have been used recently to dye eggs! Many of the eggs ended up the colour expected, but some were quite a surprise. With all of the teas, herbs and spices available, there are endless options to dye your eggs. We chose a few of our most popular ingredients to test this time, and the results were wonderful. Don't these earthy colours look cute?!
How to make your own tea dyed eggs
Using teas and herbs to dye your eggs this Easter is fun! It's like a science experiment to see what colour the eggs will turn out. You can use beeswax or soy wax to draw designs on the eggs and watch as they begin to change colour. We've tried a few different ingredients, and there are so many more options to experiment with.
For best results, leave your eggs soaking in the infusion overnight. At minimum, we suggest two hours.
Ingredients:
2 tsp of tea per cup of water
1 tsp vinegar per cup of water
Hardboiled eggs, room temperature
Boiling water
Infuse tea in boiling water for 10 minutes. Remove tea leaves.
Place boiled egg (with shell on) into a glass. Add 1 tsp vinegar and tea infusion.
Leave the glass on your counter for an hour, until the infusion reaches room temperature.
Transfer glass to fridge and allow to sit for 6-8 hours. We tried removing them after 2 hours and 4 hours. This worked too, but the colours were much better after 6.
Use a paper towel or clean rag to gently pat the eggs dry. If you want to create a marbled effect, dampen your towel and run a few areas clean.
Use the eggs to decorate your table and then eat them! The flavour of the tea and herbs is subtly present in the eggs.
How did we get those colours?
All of the below are based on the recipe above. Use boiling water for everything. Allow the infusion to cool slightly before adding eggs.
Note for powders: we removed infusion time since the powder stays in with the egg. Instead, whisk the powder into the hot water well and allow to sit and cool before adding the egg. You may want to whisk the powder and water for a second time right before adding the vinegar and egg.
Marbled Tea Eggs
Another option is marbled eggs. This is done as a side dish or snack in some countries in Asia. You can see from our picture, we didn't crack the egg enough! You will want to create pretty deep cracks to allow the tea to soak past the membrane.
For this recipe, you'll need to cook perfect hardboiled eggs.

Ingredients:
6 hard-boiled eggs
1 tsp salt
1 tbsp black tea
Immerse boiled eggs in cold water. Once cool, make small cracks by rolling the egg on a hard surface, or using the back of a spoon to tap all around the egg.
In a small pot, add black tea, salt and eggs. Cover the cracked eggs with water and turn heat to medium. Once water is steaming, reduce the temperature to low, cover and simmer for 20 minutes.
After 20 minutes, remove the pot from the heat and leave covered until cool.
Our tip for perfect hard-boiled eggs? Gently place your eggs in the bottom of a pot. Cover with water, about 1" over the eggs. Bring to a boil. Once boiling, remove from heat, cover, and leave it for 7 minutes. After the time is done, immerse in icey cold water until eggs are cool to the touch. The peel will remove easily and the eggs will be cooked perfectly!