Instructions
Serving Size: 2.5g /cup
Steeping Temp: 100°C
Steeping Time: 2 to 3 mins.
Certification: Organic
Origin: Various
Caffeine: High
Caramel Latte
Our blend-mistress has done it again, with this deliciously sweet coffee and tea blend, flavored with natural caramel essence. The coffee flavor nicely enhances the natural briskness of the black tea, and the caramel adds just right right softness to the flavor profile to tie it all together. Great with or without milk and sugar, and absolutely delicious in the morning or after a flavorful meal. Love it? Let us know with a comment and rating below!
Story, Folklore, History...

The black tea base of this luxurious blend comes from the beautiful central highlands of Sri Lanka, world-famous for their high quality black teas and pioneering agricultural methods. Sri Lanka was not always known for tea, however. Formerly named Ceylon, Sri Lanka was a major coffee exporter during the days of the Dutch and British colonies. By 1870, Sri Lanka was the world's largest coffee producer. When the 'coffee rust' blight hit Sri Lanka in 1875, most coffee plantations were destroyed within 20 years. Shortly thereafter, tea plantations were established, and continue to flourish there today.
Directions...
2 - 3 min, 5 minutes with milk
Tasting Notes
Certification: Organic
Grade or Quality: full leaf
Aroma: soft caramel aroma, light coffee
Infusion Aroma: caramel coffee aroma, light malty notes
Infusion Color: dark amber
Base flavor: delicious caramel and coffee notes, malty black tea base
Infusion Strength: strong

Have you tried Caramel Latte? Tell us what you think!
Please login or create an account in order to post a review and rating.
The perfect morning tea! It's great on its own or with sweetener and milk. The light coffee flavour and caramel aroma makes it extremely smooth

Submitted by Marrello
I have thoroughly enjoyed the the caramel flavour of this tea. I love my coffee, and this is a finish to the day.

Submitted by DebbiBS
I really enjoyed this tea but I found it was missing something. Maybe needs more caramel tones? Or maybe some orange.

Submitted by Bluebell Rivers
This tea smells sooooo divine and tastes as good as it smells. I may give up coffee for this.

Submitted by shan
Better than coffee and even tastes good iced.

Submitted by Lingling
Flavour is toned down just black but intensified with a splash of cream and sugar. Definitely a coffee substitute.

Submitted by HushTea
Simply sinfull - with a splash of milk, what a perfect start of the day!

Submitted by caromarco
Delicious!
The rich caramel scent blends perfectly with the coffee aroma.
Very sweet and light without milk but very smooth as a latte.
I definitely don't miss coffee and the satisfaction of tea's health benefits makes it so much sweeter!

Submitted by qualiTEA
I have tried both coffee blends from Shanti and Caramel Latte was my favorite of the two. It is quite sweet and the addition of milk helps soften the sweetness and enhance the flavors perfectly. I enjoyed it black as well, but somehow milk makes it seem like a dessert!

Submitted by teatime
A very nice blend.

Submitted by CharlesE
Caramel Latte Tea is a perfect way to switch from coffee to tea! The taste is wonderful, you get caffeine from the coffee beans and the black tea, and it is great any time of day. I love making this as a tea latte, the flavour is rich, full and smooth. I've replaced my morning coffee with this blend

Submitted by smotala
Simply great! I don't really miss my coffee…

Submitted by mart
Tea Legends: Caramel's Missing Myth -
by Shanti Tea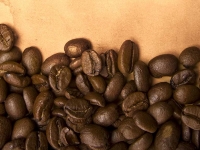 If you've ever wandered into a popular coffee shop on a rainy afternoon, you're sure to have heard someone ordering and some barista announcing the preparation of a caramel latte. These relatively simple drinks have become one of the mainstays of popular culture, yet the massive pilings of milk and sugar offer relatively little in the way of health benefits. What is so attractive about them, then? Quite simply: flavor.
Ah. Now we're getting somewhere. If flavor is what you want, put your faith in our tea company's blend mistress, whose wizard-like approach to the possible iterations of leaf and spice, accent and flavor are so complex as to be nearly magical. Our Canadian tea company uses only the finest ingredients, and this time we've really outdone ourselves: caramel latte as you've never had it before, with black tea, real coffee beans, sunflower petals, and caramel extracts.
At our company we love steeping ourselves in mythology as we meld our minds with tea. Coffee, for instance,...