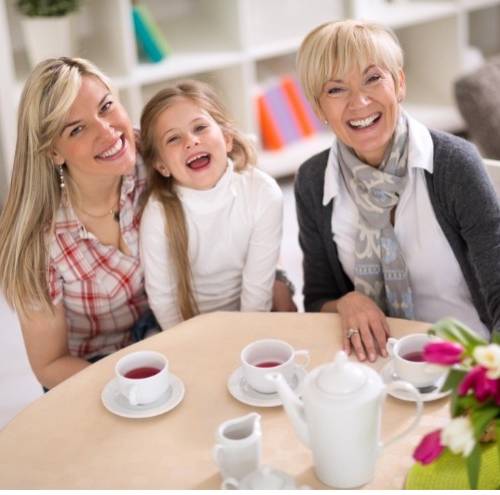 Give the gift of enticing aromas and awe-inspiring flavors with 5 teas that will spoil mom on her very special day.
Mother's Day. It is a time to celebrate the beauty of motherhood. To bring attention to the wonder, inspiration, and dedication it takes to be a mother. Being a mother means unconditional love and infinite patience (even during the "terrible twos.") But being a mother is so much more.
But where did Mother's Day come from? Where did it all begin? And how can we make mom feel special on this annual day of appreciation?
The Origin of Mother's Day
Celebrating motherhood has been practiced by different cultures throughout history, even in unofficial capacities. While some historians track its earliest origins to ancient Greece, which held festivals honoring the goddesses Rhea and Cybele, others claim its true roots began with Christianity. Most notably, Mother's Day's earliest incarnation is linked to a Christian celebration referred to as, Mothering Sunday.
Its Christian Roots
This Christian celebration spread throughout Europe, involving the church. It then became a more focused tradition more akin to what Mother's Day means to us today. This is the point where children began presenting their mothers with gifts of appreciation.
Its Cultural Heritage and Modern Evolution
In the United States, its original inception was started by Ann Reeves Jarvis and Julia Ward Howe as a club meant to teach women how to care for their children. Years later it was used to promote friendship and unity between the mothers of former Confederate and Union soldiers as a way to facilitate peace and reconciliation.
This eventually evolved to its current form and our traditional understanding of Mother's Day in 1908. However, it did not become an official U.S. holiday until 1914. While Anna did not approve of its commercialization, Mother's Day had become a sacred day, a day of tradition, a day devoted to all of the mothers in our lives, the mother of our children, mothers of our nieces and nephews, and our own mothers.
How Can We Spoil Mom on Her Very Special Day?
There is a myriad of ways we can show appreciation to the mothers we celebrate. Flowers are common, but their beauty does not last. Jewelry is also fairly common, but can we put a price tag on a mother's sacrifice and enduring love?
The best gift for Mother's Day reflects our appreciation for the work it takes to raise a child, the stress, the worry, and the days that seemed would never end. There are no words to express that could match the heart that is put into raising a child every day for years on end. And honestly, the job never ends.
Tea is More than a Drink
Tea makes the ultimate Mother's Day gift, and for good reason. Many different blends provide unique experiences and health effects. Some teas promote relaxation while others offer a mood-elevating effect. Some promote wellness while others offer vitality. There are many positive outcomes that quality loose leaf teas provide. Here are our recommendations for 5 wonderful teas to spoil mom this Mother's Day.
5 Teas to Spoil Mom on Mother's Day
Tea #1. Cinnamon Dulce de Leche: Cinnamon Dulce de Leche in Spanish means sweetened cream. It smells sweet and aromatic, providing an instantly calming effect while enhancing your mood. This Mother's Day, let your mother bask in delicious indulgence. It not only satisfies cravings for something sweet, but it also offers a robust, multi-layered flavor profile for deep fulfillment. It contains black tea, cinnamon and cacao nibs. It is also 100% organic.
Tea #2. Sita Chai: Sita Chai, also known as chocolate chai, instantly satisfies even the most intense chocolate cravings, while remaining a healthy choice for mom. Rich, chocolaty, and velvety smooth, Sita Chai also has a moderately spicy kick to it but with soft cinnamon undertones – both perfectly compliment the rich chocolate taste. The addition of rooibos gives the strength of the black tea a more mellow profile and delivers a smooth texture. Perfect for complimenting a Mother's Day brunch. Contains Rooibos, black tea, cinnamon, cardamom pods, cacao nibs, anise and cloves. It is also 100% organic.
Tea #3. Defense: Defense is a powerful herbal tea blend that promotes daily wellness while helping to build mom's defenses against illness. The defense has a tart and fruity profile that boasts a powerful blend of antioxidants, nutrients, and vitamin C. This "health cocktail" stimulates and charges up the immune system and provides much-needed nourishment to the skin and hair. Mothers everywhere will both benefit from and appreciate a gift like this. Contains Hibiscus, moringa, rosehips, and cinnamon. It is also certified 100% organic.
Tea #4. Buddha Focus: Buddha Focus is a delicious and extremely beneficial blend that promotes focus and concentration. Buddha Focus combines green tea and Ayurvedic herbs, resulting in a powerful, health-focused amalgamation for mom. One of the most beneficial ingredients in the Ayurvedic herbal blend is Brahmi. Brahmi has been used for thousands of years to revitalize the nerves and brain cells. Brahmi also supports restful sleep, calms emotional turbulence, and simultaneously promotes concentration and alertness. Contains Rooibos, green tea, tulsi, Brahmi, Gotu kola, and ginseng. It is also certified organic.
Tea #5. White Rose: For the final Mother's Day tea blend, we offer White Rose. The Rose signifies love, beauty, and courage – all the things that make a mother special. This wonderful tea blend offers a delicate blend of fruity white tea and floral organic rose petals, culminating in a beautifully fragrant bouquet that promotes wellbeing and vitality. Supremely healthy and utterly delicious, White Rose is best enjoyed in the evenings to unwind and reflect on the day. Contains White tea (Camellia Sinensis) and rose petals. Certified organic.
Conclusion
Mother's Day is steeped in history, tradition, and heritage. It is the one day a year when children, grandchildren, husbands, and brothers show their appreciation for the woman that raised them, their children, or their nieces and nephews. Delicious and healthy loose-leaf tea makes the perfect Mother's Day gift because it dazzles the senses, wakes up the taste buds, and offers health and wellbeing. Make sure to get mom enough to last beyond Mother's Day so she can feel special every day of the year.