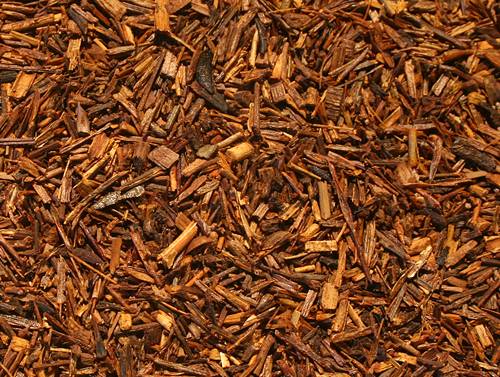 ROY-bus. Though it make not look like it, next time you walk into your favorite tea shop, it's the right way to ask for a cup of that yummy "rooibos" stuff. But the way you say it's just the start—Rooibos, that deliciously sweet herbal blend that seems to be cropping up at every tea (and now, coffee!) shop has got a pretty sweet story, too.
Rooibos, translated from Africaans, means 'Red Bush', a.k.a. 'Bush Tea' or 'Red Tea.' It's a green shrub native to South Africa, grown in a small area in the Cederberg region of the Western Cape Province. Once picked, the shrub's leaves are oxidized, creating that distinct reddish color and signature flavour rooibos is known for. (Of course, if we're talking green rooibos, the leaves don't need to be oxidized. Instead, they're processed more in the manner of traditional green tea. But more on that to come!).
Rooibos is naturally caffeine free, and has been consumed for hundreds of years by the natives of the Cape Town region. It's got a rich red color, with a naturally sweet and slightly nutty flavor. While many North Americans prefer to drink it like black tea, with some milk or sugar, it's common in South Africa to serve with a slice of lemon and sugar, or honey for sweetness. As Rooibos increases in popularity, it's also picking up in variety over the world—for example, some coffee shops are now selling "red espresso"—highly-concentrated rooibos served up like joe. This means red cappuccinos, red lattes… even iced red tea, flavored with some fruits, too!
While in South Africa, Rooibos tea was used for skin issues, allergies, and asthma, we in North America tend to be fond of its antioxidants and lack of caffeine. Some use it as a homemade remedy for anxiety, allergies, or digestive problems.
How about a little taste of history? A virtually unknown herb until the mid 19th century, Rooibos was brewed for centuries as an herbal remedy by South African Bushmen. By tradition, the natives of South Africa's Cederberg region would climb mountains to cut the leaves off of wild rooibos, then rolling bunches of the stuff into bags, and carrying them back down the hill on their donkeys. Once back on flat ground, they'd chop the leaves before leaving them to dry in the sunlight.
Dutch settlers modified the rooibos as an alternative to their usual black tea, something that had become rather expensive to ship from their native Europe.In the early 1900s, a Russian settler, Benjamin Ginsberg, began to develop rooibos tea, running a series of curation experiments, and finally creating what we in North America know as "rooibos tea" by oxidizing the leaves in barrels covered in wet burlap. Within a few decades, Ginsberg had a tea farm called Klein Kliphuis which helped to create a more expansive distribution base for the tea—and expand it did!
Shanti offers a standard, naturally red, sweet and nutty Rooibos tea, a Green Rooibos with a more grassy scent and antioxidant power, and a deliciously spiced Rooibos Chai with cardamom and cloves.