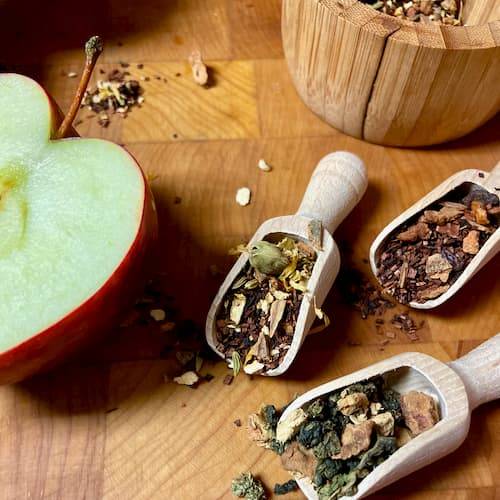 It's apple season! With many orchards ready for harvest this month, apple picking is a popular activity for fall enthusiasts, families looking to spend time outdoors and anyone who enjoys cooking or baking with fresh, farm-to-table ingredients. It's a truly delicious time of hot apple cider, warm apple crumble and freshly baked apple pies.
Interested?
To inspire your perfect fall day, we've linked a few apple orchards below, as well as our three delicious apple teas. We also dug through the archives for a scrumptious Apple Pie Muffin recipe that we hope you'll enjoy. It's a gem!
Pick-your-own apple orchards
Dempsey Corner Orchards (Aylesford, NS)
Quinn Farm (Notre-Dame-de-l'Île-Perrot, QC)
Mountain Orchards (near Ottawa, ON)
Parkway Orchards (Niagara-on-the-Lake, ON)
Sweet Acres Orchards (Red Deer, AB)
Davison Orchards Country Village (Vernon, BC)
Don't forget the tea!
Before you head out to the orchard, fill your travel mug with one of these lovely apple teas to keep you warm:
Apple Crumble – With flavours of sweet, baked apples, cinnamon and creamy vanilla, this herbal honeybush blend is as indulgent as the real thing!
Warm Apple Cider – This warming blend includes oolong tea, sweet apples and a hint of spicy ginger.
Apple Chai – Honeybush and apples are blended with cloves, cinnamon and fennel for a sweet and spicy caffeine-free chai.
To cap off the perfect fall day, use some of your freshly picked apples to make these easy and delicious Apple Pie Muffins – a family favourite across generations!
Apple Pie Muffins*
Topping
1/2 c packed brown sugar
1/3 c flour
2 tbsp butter, melted
1 tsp cinnamon
Batter
2 1/4 c flour
1 tsp baking soda
1/2 tsp salt
1 egg
1 cup buttermilk
1/2 cup butter, melted
1 tsp vanilla
1 1/2 cups packed brown sugar
2 cups diced apples
In a large bowl, combine flour, baking soda and salt. In a separate bowl, whisk together egg, buttermilk, butter and vanilla. Stir in sugar. Pour over flour mixture and sprinkle in apples. Stir until just combined. Spoon into greased muffin tins. Sprinkle with topping. Bake at 375 for 20-25 min.
* Source: Canadian Living ~ 1989