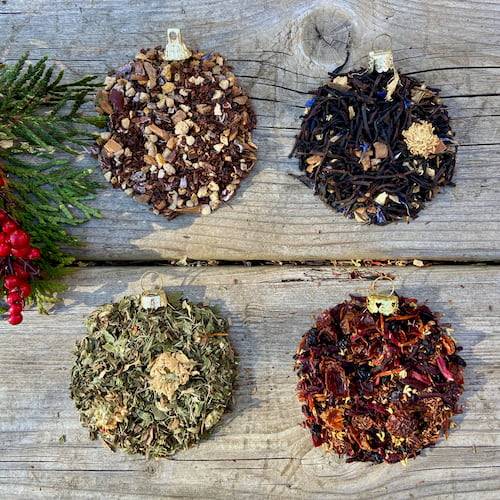 There's something about the holidays – and those weeks leading up to them – that feels a bit magical. It's a time of year filled with excitement, nostalgia, tradition and, most importantly, family and friends.
This year, the holidays may feel a little different, but it's still a time to make memories.
We are thrilled to share our holiday tea collection with you and while the teas are reminiscent of some of our favourite holiday memories, we hope they will help you create special holiday memories of your own.
We've also included a few gift ideas and some fun, tea-themed activities to inspire your holiday cheer!
Holiday tea blends
Gift ideas
In addition to our special, limited-edition holiday blends, here are a few other ideas for the tea-lover on your gift list.
Tea Sampler Packs – Gift box of three, curated teas to sample.
Tea accessories like our mesh basket infuser or perfect teaspoon are great add-on gifts
Tea tins – Loose leaf or pyramid tea bags packaged in our beautiful Shanti tins
Create your own gift bundle for the tea-lover on your list!

Purchase 12 of the sample size teas for a Twelve Days of Tea gift that is perfect for your tea-loving friend or family member.
Bundle together a few similar teas (by type – e.g., green, by region – e.g., China, or by benefit – e.g., relaxation) and combine them with a couple of tea accessories for a thoughtful gift.
Gift a Day of Teas (a tea for morning, one for after lunch, an afternoon pick-me up and a nighttime tea).
Make some memories
If you can't get together in person this year, consider planning ahead and sending your friends or family the same, thoughtfully curated package of tea that reminds them of your special traditions and treasured memories. Then, host a virtual tea party or tea tasting over the holidays to enjoy your tea together.
Here's to a holiday season filled with new memories and endless cups of tea!