Instructions
Serving Size: 2.5g /cup
Steeping Temp: 100°C
Steeping Time: 2 to 5 mins.
Certification: Organic
Origin: India
Caffeine: Medium
Kama Sutra Chai
One of our most delicious and fragrant chai creations; rich, warm, seductive, mysterious, inviting... This magnificent blend is best shared with your loved one, or perhaps your loved one to be? Sweetly fragrant cinnamon, lavender, rose petals, and cardamom blend like a tempest in a teapot, an elixir of love to fuel dangerous passions...
Tasting Notes
Certification: Organic
Grade or Quality: FBOP
Aroma: Sweet, spicy
Infusion Aroma: Cloves, sweet
Infusion Color: Amber
Base flavor: Floral
Infusion Strength: Medium

Have you tried Kama Sutra Chai? Tell us what you think!
Please login or create an account in order to post a review and rating.
How to make the perfect masala chai -
by Safiya Motala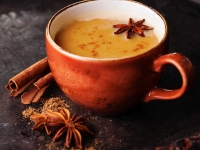 If you walk into any Indian family kitchen and ask for the recipe for perfect masala chai, it is guaranteed that you will never get the same answer twice. There is no hard rule for this beverage, but that doesn't mean there aren't easy guidelines to follow.
First things first, chai means tea. If you say "can I have some chai tea", you're essentially saying "can I have some tea tea". What you likely mean to say is masala chai (as in, tea with a blend of spices). Masala is the Indian term for a mixture of spices.
Masala chai was around far before tea made it's way to India. Some date the history up to 9000 years ago! Before the 1930's when tea was introduced to the Indian market, masala chai was simply a blend of spices infused for medicinal properties in Ayurveda and did not contain any tea.
If you want to make your own traditional style masala chai from home, there are only a few things you will need: