Instructions
Serving Size: 2.5g /cup
Steeping Temp: 80°C
Steeping Time: 2 mins.
Certification: Organic
Origin: Japan
Caffeine: Medium Light
Japanese Genmaicha
Genmaicha is a popular Japanese blend of toasted rice (genmai) and green tea (organic Sencha). It is a unique tea, very flavourful and aromatic. What looks like popcorn is actually popped rice. It pops frequently during the traditional roasting process and adds a nice touch to the look of the tea. Genmaicha produces light golden colored liquid, has lower levels of caffeine and balanced astringency. Rich nutty sweetness of toasted rice blends perfectly with the fresh grassy flavor of sencha. Delightfully smooth and thirst quenching. This tea can be enjoyed at any time of the day.
Tasting Notes
Certification: Organic
Grade or Quality: Leaf
Aroma: Roasted rice, nutty
Infusion Aroma: Nutty, slightly vegetal
Infusion Color: light golden
Base flavor: Nutty
Infusion Strength: Medium-light

Have you tried Japanese Genmaicha? Tell us what you think!
Please login or create an account in order to post a review and rating.
Tea Legends: The Samurai and the Tea Master -
by Richard Isaac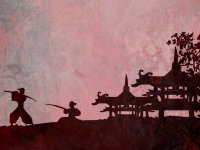 For centuries tea has been a symbol of inner harmony, especially in the time-honored country of Japan. Indeed, the Ancient Japanese honed the craft and the art of the tea ceremony. The Orient's appreciation for tea is even viewed in its rich, ancient tea legends that were designed to instruct people as to the methods of unlocking their own inner peace, their Zen.
The Samurai and the Tea Master is just such a tale that capitalizes on the power of inner tranquility over outward strength. The story is set in Ancient Japan, and the hero is not a Samurai, but a tea master.
Lord Yamanouchi was an honorable Samurai warrior, skilled at intertwining his mind and body through the meditative arts. No matter how many vile enemies he battled, his mind would always be at peace, ensuring that his sheer concentration would conquer all.
As a lordly man, Lord Yamanouchi had a tea master in his service. No one had ever before performed the tea ceremony with such quiet confidence,...