Instructions
Serving Size: 2.5g /cup
Steeping Temp: 85°C
Steeping Time: 5 - 10 mins.
Certification: Organic
Origin: Various
Caffeine: Medium-Low
Anti-Sugar
This powerful blend of pu erh tea, gymnema, orange and flower petals is a perfect afternoon tea. Due to pu erh and gymnema combination, it may help to inhibit cravings for sugary snacks! Pu erh is know to known to stimulate weight loss, improve blood sugar levels, and increase metabolism. Orange and hibiscus make this tea enjoyable to drink over and over again. It also makes a delicious ice tea.
Story, Folklore, History...

Gymnema sylvestere is the key ingredient in this blend, and it has long been used in Ayurvedic medicine. In Hindi, the word for gymnema is gurmar, meaning "sweet destroyer".
Gymnema blocks the ability of your tounge to taste sweetness. It is used to lessen the cravings for sugar. It also helps to balance blood sugar levels.
Gymnema is used today for diabetes, metabolic syndrome, digestive stimulant, laxative, diuretic and for weight loss, as well as malaria and even a snake bite antidote!
Tasting Notes
Certification: Organic
Grade or Quality: Loose
Aroma: Citrus, slightly herbaceous
Infusion Aroma: Citrus, earthy
Infusion Color: Pale amber
Base flavor: Citrus
Infusion Strength: Medium-Light

Have you tried Anti-Sugar? Tell us what you think!
Please login or create an account in order to post a review and rating.
How to make delicious iced tea -
by Richard Isaac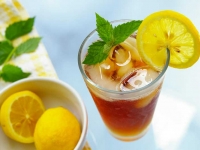 Spring is here, time to break out the iced tea!
There are quite a few methods for making iced tea, selecting the right method really depends on the tea leaves or herbs you are using to make the infusion. You can use any kind of tea or herb to make iced tea, but some are a bit more temperamental and require a bit more attention. Over the past years we've held quite a few iced tea-making workshops so some of our Ottawa customers are probably already familiar with a lot of these iced tea methods, but in case you need a refresher, read on. This guide is intended to help you figure out which method is best for your tea of choice. At the end of the guide will be some links to Shanti Tea's Iced Tea Pouches, which will make iced tea-making this summer deliciously effortless.
Iced Tea Preparation: Read It In The Leaves
The most important factor which determines the method you will be using to make your iced tea...