Instructions
Serving Size: 2.5g /cup
Steeping Temp: 88°C
Steeping Time: 3 - 5 min mins.
Certification: Organic
Origin: China
Caffeine: Light
White Peony
Bai Mu Dan literally translates to "white peony'. It is a full leaf white tea, which includes both the tea leaves and sliver needles. Carefully picked during few weeks in late March and early April, Bai Mu Dan leaves are plucked by hand from a special tea bush called Narcissus or Chaicha. This delicate tea has a pale golden color, floral aroma, and a mild smooth taste, but is fuller in flavor than many other white teas. White teas give you all the health promoting antioxidants of green tea, with a milder, sweeter, less grassy taste.
Story, Folklore, History...

The discovery of Tea:According to Chinese legend, tea was discovered by the Chinese Emperor, Shan Nong, in 2737 B.C.E. The Emperor used to boil his water to purify it. One day while sipping his water under a tree in his garden, a few of the leaves happened to fall into his cup, immediately releasing a pleasant aroma. Upon drinking this brew, he found it to be refreshing, relaxing, and exhilarating, while increasing his sense of well-being. Tea was born. White tea is the least processed of all the teas.
Tasting Notes
Certification: Organic
Grade or Quality: Leaf
Aroma: Earthy/Grassy
Infusion Aroma: Fruity
Infusion Color: Light Amber
Base flavor: Floral
Infusion Strength: Medium-Strong

Have you tried White Peony? Tell us what you think!
Please login or create an account in order to post a review and rating.
What is White Tea? -
by Safiya Motala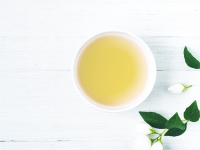 There are different varieties of tea available, but do you know what each one is? In this blog series, we will explore a different type of tea in depth. White tea is the least processed of all tea varieties, so we will start here.
All tea comes from the same plant, Camellia sinensis. Within Camellia sinensis, there are two different varieties, sinensis and assamica. Assamica is typically found in the Assam region of India, and sinensis is found in most other parts of the world where tea is grown.
So what makes tea white? Actually, very little. White tea is the closest you can get to a freshly picked leaf. It is basically a tea leaf that is dried and not processed at all.
Let us take a more in-depth look at this variety of tea.
Region:
Most white tea comes from China, although more and more tea growing regions are beginning to produce white teas. The two most popular white teas from China are Read the rest of the article on our blog.