Instructions
Serving Size: 2.5g /cup
Steeping Temp: 100°C
Steeping Time: 5 mins.
Certification: Organic
Origin: USA
Caffeine: Caffeine Free
Valerian Root
Valerian, a member of the Valerianaceae family, is a perennial plant native to Europe and Asia. Valerian root has been used medicinally for over 2000 years. When prepared as a tea, it is slightly sweet and spicy with a touch of bitterness, making it palatable to some, but not all individuals. It is often combined with other calming herbs, making it more pleasant to taste. It is traditionally used to support healthy sleep and relaxation but also for gastrointestinal spasms and distress.
Tasting Notes
Certification: Organic
Grade or Quality: C/S
Aroma: Strong, pungent
Base flavor: Spicy

Have you tried Valerian Root? Tell us what you think!
Please login or create an account in order to post a review and rating.
Exactly like Jdeltin. I know Valerian isn't supposed to smell good. But it smelled and tasted like dirt from an old cave. As if the product had not properly been dried before packaging or it has been stored in a humid basement, started to rot and they just removed the top layer and sold what still looked good.

Submitted by Richard
I'm a huge Valerian lover. I know that Valerian tea typically is pretty stinky and an acquired taste.. But this was terrible. It tasted like dirt. Had to throw the whole bag out.

Submitted by Jdeltin
Lapsang Salmon -
by Safiya Motala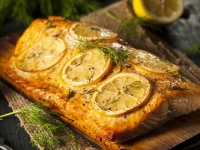 We love all of our teas, however, Lapsang Souchong is a favourite at Shanti Tea. For anyone who enjoys smoky flavour, this tea is certainly for you. If you don't like drinking your smoky flavour, that's okay. We love using this tea as an ingredient for other things besides tea too.
Lapsang Souchong is a type of tea from China. Souchong refers to the grade, it's a larger leaf found lower on the plant, usually, the top two leaves and bud are the most desirable parts of the plant.
To gets its aroma and flavour, tea leaves are smoked over a pine fire. The best way to describe the aroma of Lapsang is campfire. That's exactly what it smells like. The flavour is a bit more complex. You certainly taste the smoke but also notice that it is actually a light tea with a fruity note and smoky finish that is not overwhelming.
Salmon is a popular use for Lapsang Souchong, as smoked salmon is often prepared similarly to how Lapsang Souchong is...