Instructions
Serving Size: 2.5g /cup
Steeping Temp: 100°C
Steeping Time: 2 to 5 mins.
Certification: Organic
Origin: India
Caffeine: High
Strong Earl Grey
Using a GBOP grade of black tea for this earl grey and blending it with extra bergamot essence creates an infusion especially well suited for london fogs or for those seeking a strong bergamot flavor in their tea. Much stronger than the classic, malty notes, and a lively cup. Serious about Earl Grey? Let us know what you think with a comment below!
Tasting Notes
Certification: Organic
Grade or Quality: GBOP
Aroma: bergamot
Infusion Aroma: strong bergamot
Infusion Color: Amber
Base flavor: bergamot, malt
Infusion Strength: Strong

Have you tried Strong Earl Grey? Tell us what you think!
Please login or create an account in order to post a review and rating.
Tea Scones -
by Safiya Motala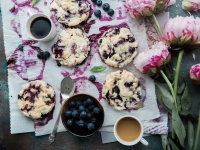 I don't know about you, but a strong cup of black tea with milk is almost guaranteed to make me think of scones. Scones are quick to make (takes about 15 minutes), and made with ingredients you likely already have in your house. Fresh baked scones are delicious served right out of the oven with a dollop of butter or heavy cream, but also great with jams or other spreads. The great thing about this recipe is you can make it sweet or savoury, and add ingredients of your choosing.
My favourite way to make these scones is exactly as the recipe dictates, but adding in a handful of raisins. When using dried fruit, it's helpful to soak it in a cup of hot water for 5 minutes or so to help soften them up before you add it to the batter.
Basic scones
Ingredients:
2 cups all purpose flour
3 tbsp sugar (or sweetener of choice)
1 ½ tsp baking powder
¼ tsp salt
1/3 cup cold butter, diced
1 cup milk
Directions:
Preheat oven to 425&deg...