Instructions
Serving Size: 2.5g /cup
Steeping Temp: 100°C
Steeping Time: 2 to 5 mins.
Certification: Organic
Origin: India
Caffeine: High
Strong Earl Grey
Earl Grey is one of the most recognized flavored teas in the world. This quintessentially British tea has a strong black tea base flavored with oil from the rind of bergamot orange, a citrus fruit with the appearance and flavor somewhere between an orange and a lemon with a little grapefruit and lime thrown in. One of the most famous and appreciated compositions in the world. Earl Gray tea owes its unique taste and aroma to bergamot oil. The name bergamot was introduced by the Turks, who described it as the fruit of the Prince's Pear, cultivated in the Mediterranean, similar in shape to citrus fruit, with a thick, fleshy skin. The aromatic oil is pressed from this skin, which is added to, among others, Earl Gray tea. Earl Gray tea is presumably attributed to the shipment of tea from Far East. During the long journey, the tea leaves were protected with bergamot oil, placed in the transport hatches to protect the cargo against the effects of mold and a strong smell of fish. Our Strong Earl Grey has a strong black tea base which creates an infusion especially well suited for london fogs or for those seeking a strong morning tea with a delectable aroma.
Tasting Notes
Certification: Organic
Grade or Quality: GBOP
Aroma: bergamot
Infusion Aroma: strong bergamot
Infusion Color: Amber
Base flavor: Earthy
Infusion Strength: Strong

Have you tried Strong Earl Grey? Tell us what you think!
Please login or create an account in order to post a review and rating.
Tea Scones -
by Safiya Motala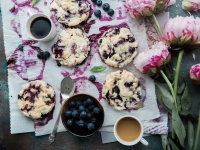 I don't know about you, but a strong cup of black tea with milk is almost guaranteed to make me think of scones. Scones are quick to make (takes about 15 minutes), and made with ingredients you likely already have in your house. Fresh baked scones are delicious served right out of the oven with a dollop of butter or heavy cream, but also great with jams or other spreads. The great thing about this recipe is you can make it sweet or savoury, and add ingredients of your choosing.
My favourite way to make these scones is exactly as the recipe dictates, but adding in a handful of raisins. When using dried fruit, it's helpful to soak it in a cup of hot water for 5 minutes or so to help soften them up before you add it to the batter.
Basic scones
Ingredients:
2 cups all purpose flour
3 tbsp sugar (or sweetener of choice)
1 ½ tsp baking powder
¼ tsp salt
1/3 cup cold butter, diced
1 cup milk
Directions:
Preheat oven to 425&deg...
---
Our Tea Sommelier's top 5 -
by Richard Isaac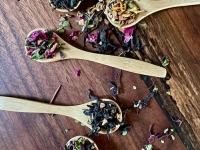 To help you celebrate Hot Tea Month by discovering some new and exciting teas, we asked our Tea Sommelier, Alicja, for her top five picks from the Shanti collection. From delicate and floral to dark and moody, explore Alicja's curated list below, and find out what makes each of these teas a must-try.
Keemun Premium "An elegant black tea, well-balanced flavours of sweet and floral notes, slight maltiness, a touch of vanilla and no bitterness. I love to share this tea with guests – everyone is always delighted."
Apple Chai "A delicious herbal chai that even kids will enjoy. Full of delectable flavours and a sweet aroma. This tea is a great accompaniment for apple crisp or apple cake (szarlotka). You can tell I love apples!"
White Rose "Gorgeous looking tea. It makes a beautiful gift. The flavour is subtle and sweet, with no harshness or bitterness. The elegant aroma of roses is...