Instructions
Serving Size: 2.5g /cup
Steeping Temp: 88°C
Steeping Time: 3 mins.
Certification: Organic
Origin: China
Caffeine: Medium
Smoked Maple
A wonderfully bold but smooth, not bitter or harsh, blend of dark oolong and maple, a perfect pairing. While the oolong is bold, full-bodied, and lightly smoked, the maple is light, aromatic and sweet. The combination of the two flavors results in a well-balanced, best-selling maple tea blend.
Tasting Notes
Certification: Organic
Grade or Quality: Leaf
Aroma: Nutty, Sweet, Earthy
Infusion Aroma: Nutty Maple
Infusion Color: Deep Amber
Base flavor: Smoky
Infusion Strength: Medium

Have you tried Smoked Maple? Tell us what you think!
Please login or create an account in order to post a review and rating.
Wuyi Rock Oolong Gets Reviewed on Walker Tea Review -
by Richard Isaac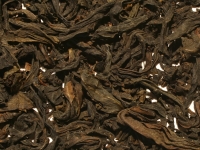 Another great review by Jason Walker of Walker Tea Review. Thanks, Jason, for putting in the time to taste our teas.
Smells like it's been in the smokehouse, it's a bit meaty, salty, smoky, all fused into one—it's a pleasant smell [talking about the leaves]. Nice smooth pour. Good deep amber/dark honey colour. [Tasting now] Think of early stages of lapsong souchong—there's still some smokiness coming out [sounds great for cooking!]. Texture-wise, it's got a smooth, silken aspect to it, a gummy sweetness. 86/100