Instructions
Serving Size: 2.5g /cup
Steeping Temp: 100°C
Steeping Time: 5 mins.
Certification: Organic
Origin: South Africa
Caffeine: Caffeine Free
Rooibos
Rooibos, translated from Africaans to mean "Red Bush', a.k.a. "Bush Tea' or "Red Tea' is a green shrub native to South Africa grown only in a small area in the Cederberg region of the Western Cape Province. It is naturally caffeine free, and has been consumed for hundreds of years by the natives of the Cape Town region. Rooibos has a rich red color, with a naturally sweet and slightly nutty flavor, and offers many health benefits such its high antioxidant content. This South African tea is widely consumed in the same manner as black teas, with milk, sugar or lemon according to personal preference. It offers many health benefits including a high antioxidant content and is said to naturally boost energy.
Story, Folklore, History...

History of Rooibos:A virtually unknown herb until the mid 19th century, Rooibos was brewed for centuries as an herbal remedy by the Khoisans South African Bushmen. Knowledge of the properties of this herb almost vanished as environmental changes caused the Khoisan population to dwindle, although its use was reported by a botanist in the late 18th century, and eventually began to be traded at Mountain Tea in the early 20th century.
Tasting Notes
Certification: Organic
Grade or Quality: Loose Leaf Naturally Caffeine Free Tea
Aroma: Sweet, nutty, slight citrus
Infusion Aroma: Light, slightly nutty
Infusion Color: Deep Amber
Base flavor: Nutty 
Infusion Strength: Medium

Have you tried Rooibos? Tell us what you think!
Please login or create an account in order to post a review and rating.
Red Lattes - Rooibos-based espresso! -
by Safiya Motala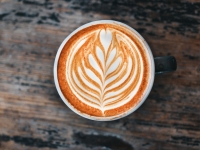 A rooibos latte, or red latte, is a delicious tea latte recipe that uses naturally caffeine-free rooibos instead of coffee. The result is a smooth, rich and complex latte that can be enjoyed any time of day. The natural sweetness of rooibos makes it pleasant without any added sweeteners.
Shanti Tea offers a cut of Espresso Ground Rooibos, or Roospresso, that can be made using your espresso machine! You can enjoy a shot of rooibos espresso, or use it in a latte, or however else you enjoy espresso (affogato perhaps?)
Why? Sometimes you crave a latte, but not looking for the jittery rush of caffeine. Or perhaps you don't drink coffee, but would like an earthy, complex flavour to your tea latte. Finally, you may love espresso, and want something kid friendly so they can feel grown up and enjoy a latte or sip on Roospresso while you enjoy your espresso.
Rooibos is a wonderful tisane from South Africa, where many people consume it similarly to how we prepare black tea (with milk, lemon, honey or similar accompaniments). It comes from...