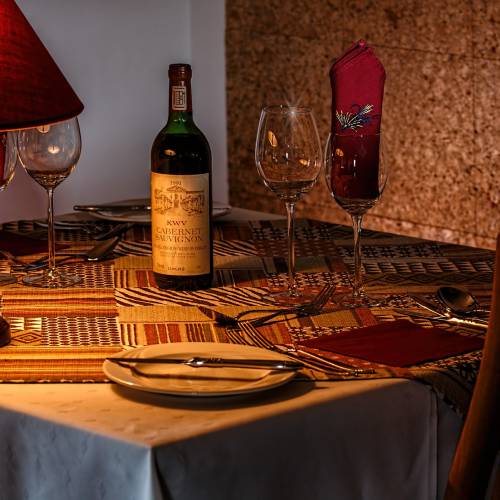 For any tea lovers, or foodies, cooking with tea is a must! You can get some really unique flavours with hardly any effort.
We've created a menu for a romantic dinner for two, each dish contains tea or a tisane as an ingredient. There are also some suggested substitutions for different dietary requirements. The great thing about this meal plan is that it's easy to put together, 5 courses and is also a light, lean dinner.
Beet Carpaccio with Black Tea Dressing
Ingredients:
1-2 beets (we used 2 small beets)
Fresh dill
2 tbsp black tea (Ancient Forest Black)
1/2 hot water
1 lemon
1/4 tsp capers, finely chopped
Salt to taste
1 tsp olive oil
Directions:
Begin by trimming the leaves from the beetroot, leaving about 2.5cm of stalk on each one. Place in a large saucepan and cover with water. Bring to the boil, reduce the heat and leave to simmer gently, partially covered, for 40 minutes. Drain and set aside.
Finely grate the zest of one of the lemons and squeeze the juice from both, passing it through a fine sieve to ensure no pith or pips remain. Add to a bowl with the dill, olive oil, capers and salt. Whisk all of the ingredients together.
Run the beetroots under a cold tap and gently slide off the skins (they should peel off easily). Then, using a mandolin or a sharp knife, slice the beetroot into very thin rounds.
Arrange the beetroot slices on a serving platter or individual plates and spoon over the dressing, letting it sink into every crevice of the beetroots. Cover with cling film and chill in the fridge for at least 2 hours before serving.
Smoky Oolong Scallops
Ingredients:
4-6 jumbo scallops
2 tsp avocado oil, divided
1 tbsp of finely chopped shallot
½ cup room temperature water
1/4 cup dark oolong tea leaves (Wuyi Rock Oolong)
Salt and pepper to taste
2 tsp flour of choice (we used brown rice flour)
Fresh tarragon for garnish
Directions:
In a small bowl, combine dark oolong with water. Set aside for 10 minutes to infuse
Remove tea leaves, place scallops in the tea infusion and cover. Leave in fridge for 1-2 hours.
In another small bowl, mix flour with salt and pepper.
Remove scallops from tea infusion and pat dry. Dust lightly with flour mixture and set aside.
In a small frying pan, heat 1 tsp avocado oil on medium-high heat. Once oil is hot, place scallops down. Sear on each side for 1.5 – 2 minutes. Larger scallops may require more time.
Substitutions:
Use large cubes of tofu instead of scallops
Tortellini in a White Tea Broth
We chose to make our tortellini from scratch! You can make a large batch ahead of time and freeze some, or you can opt for store bought. You can also make the broth ahead of time. Again, make a large batch and freeze some for later use.
Ingredients:
Pasta
2 cups all-purpose flour
2 whole eggs
4 egg yolks
Filling
1/2 pound cooked chicken (or other filling of your choice)
75 grams of finely grated parmesan cheese, about 2 1/2 ounces
Zest of a lemon, finely grated
1 egg
A few gratings of nutmeg, about 1/4 teaspoon
Salt and pepper to taste
Broth
½ cup white tea (White Peony)
1 chopped onion
1 chopped celery stalk
1 chopped carrot
2 bay leaves
Salt
Fresh tarragon leaves, for garnish
Directions:
First, prepare the tea for the broth. Put your ½ cup of dry tea leaves 2 cups of hot water (75°C) and allow to infuse for 2 minutes. Do not over infuse, it will become bitter. Strain out tea leaves, keep the tea infusion and tea leaves aside.
Sauté onion and mushrooms until onions are translucent and mushrooms have softened. Add parsnips, celery and carrots and sauté 5 minutes at a low temperature.
Pour 3 cups of cold water, heat, but do not bring to a boil. Once you see steam, reduce heat to low and simmer.
Make the pasta.
Dough: Pour the flour into a large bowl and make a well inside. Put the eggs and yolks into the well and mix to make a dough. Knead for at least 5 minutes and up to 10 minutes. Wrap in plastic wrap and let the dough rest for 1 hour.
Make the filling. Mix all filling ingredients in a bowl (except salt and egg). Taste the mixture and add salt as needed. Transfer filling to a food processor and add the egg. Pulse until mixture is smooth, but not too smooth (you want some texture).
Set up your tortellini prep space. Get a large, clean surface and fill one small bowl with cold, clean water and one small bowl with flour. Put the filling into a plastic bag and squeeze it all towards one corner. You can cut the corner to make a piping bag. You will also need a sharp knife and ruler, or a square cookie cutter. Get one large clean baking sheet and dust with flour.
If you don't have a pasta rolling machine, you'll have to roll by hand!

Separate your dough into 8 pieces. All dough not in use should remain in plastic. Roll dough into thin sheet, No. 7 on your pasta roller.
Cut squares
Pipe approximately ½ tsp of filling onto the middle of each square. Do this in small batches, as the pasta dough will dry quickly.
Fold the square in half to make a triangle. Make sure there is no air. The edges should stick, but if they aren't, use your cup of water to slightly moisten edges. Fold the triangle around your finger and pinch the edges together.
Set onto the floured baking sheet.
At this point, you can freeze a portion, I dusted mine with flour on all sizes and froze on the baking sheet. After about 1 hour in the freezer, I transferred all of the tortellini into a freezer bag.
If you're making ahead, you can also put some in the refrigerator. I wouldn't make more than 1 day in advance.

Boil water in a separate pot (not in your broth). Drop your tortellini in the hot water and boil until pasta raises to the surface. Cook an additional 30 seconds, remove and place in bowls. For two people, I boiled about 15 pieces of tortellini, but you can definitely boil more or less!
Pour ¾ cup of broth into each bowl. Add reserved tea leaves
Substitutions:
Use walnuts and lentils or mushrooms for the filling
Make a vegan parmesean by blending cashews and garlic with a pinch of salt.
Experiment with different types of flour. Instead of 2 cups all purpose, use 1 ½ cups brown rice flour, ½ cup tapioca starch, 1 tsp xanthan gum.
To make the dough vegan, try 2 cups semolina flour, ¾ cup whole wheat flour and ¾ cup cold water (you may also add ½ tsp salt and ½ tsp olive oil)
Grilled Sea Bass and Root Vegetables with Green Tea Reduction
Ingredients:
2 large pieces of sea bass with skin
Assorted root vegetables (we used baby carrots, yucca root and fennel)
1 cup water
1/4 cup green tea (Darjeeling Green)
1 tbsp chopped green onions
1 tsp avocado oil
1 tsp sweetener of choice (we used honey)
Salt and pepper to taste

Directions:
Heat water to 75°C (or just until small bubbles start to form). Pour 1 cup of hot water over green tea. Allow to sit for 1.5 minutes. Remove tea, set aside.
Green Tea Marinade: Take 1/2 cup of your green tea infusion (leave the remainder aside for your glaze). Add a small pinch of black pepper and green onion.
Place sea bass filets in a deep dish, skin side down. Pour in green tea marinde, cover and leave in the refrigerator.
Preheat oven to 400°C.
Peel vegetables if desired. In a separate baking dish, place vegetables in a single layer. Sprinkle with salt and pepper, and a drizzle of avocado oil. Cover with tin foil and bake for 30 minutes (Note: some vegetables may require more or less time. Put your most dense vegetables in first and add the faster cooking veggies after 5-15 minutes, depending on how much additional time your dense veggies will require to cook.) Leave vegetables in oven until you can pierce with a fork, but do not cook too soft.
In a small saucepan, heat avocado oil on medium. Add in remaining 1/2 cup of green tea and sweetener. Reduce to low and simmer until thickened. Whisk occasionally.
Pop a cast iron skillet into the oven. Remove sea bass from fridge and sprinkle with salt and pepper.
Once hot, place your sea bass skin side up on the skillet. Sear for 2 minutes. Flip over (skin on the skillet now) and put the skillet in the oven for 5 minutes.
To plate, arrange your veggies as desired, place sea bass and drizzle with your green tea reduction. Add green tea leaves and fresh herbs for garnish.

Substitutions:
Instead of sea bass, try different types of fish. Or chicken!
For a veggie plate, try making a grilled eggplant steak intead of sea bass. Marinate thick slices of eggplant in a mix of vinegar, soy sauce, chili flakes, smoked paprika, oregano, salt and pepper. Let the eggplant sit for 30-45 minutes, then grill on a cast iron skillet until brown on both sides.

Hibiscus Sorbet with Prosecco
Ingredients
½ cup Hibiscus flowers
1 cup powdered sugar
1 tbsp lime juice
2 cups water
1 cup prosecco
Candied orange peel for garnish (optional)
Directions:
Boil water. Add hibiscus flowers and allow to sit for 5 minutes. Note: you can also add other ingredients, such as rose petals, fresh fruit juice, mint, or anything else you think of.
Remove tea leaves, mix in sugar and bring to a boil. Stir frequently. Once boiling, remove from heat and continue to stir. Allow to cool for 10 minutes, then transfer to a refrigerator to chill for 4 hours or until well chilled.
Pour into an ice cream maker and follow manufacturers directions. *
Transfer to your freezer, allow to freeze overnight.
* If you do not have an ice cream maker, fear not! You'll just have to put a bit more work into it. Once you remove from the refrigerator, transfer your mixture to the freezer. After 45 minutes, remove and mix thoroughly. Return to the freezer. 45 minutes later, remove and mix. Repeat 4-5 times. Feel free to use your food processer to mix, it will help to achieve a smoother consistency. Once it's frozen and thick, you can leave it in the freezer until you are ready to enjoy.
If you are interested in the candied orange peel:

Wash your orange thoroughly. Peel narrow, long strips.
Fill a wide, deep pan with 2 cups of cold water, add orange peels. Bring to a boil. Once it reaches a boil, drain the water. Fill with 2 cups cold water and bring to a boil again. Simmer for 5 minutes.
Remove orange peels from water, set aside. Using the same water (or fresh water if you prefer), add 1 cup sugar, bring to a boil, then reduce heat. Simmer until thickened, stirring frequently, approximately 8-10 minutes.
Place orange peels in syrup. Continue to simmer for 30-45 minutes. Avoid stirring, this will cause the sugar to crystelize. Drain the remaining syrup (you can use this for something else! Orange syrup for your cocktails?)
Leave orange peels on a drying rack for 3 hours. Then transfer to an airtight container

To serve: Place 1-2 scoops in a glass dish. Top with ½ cup prosecco and enjoy!
Are you looking for ways to use tea for cooking in your business?
There are many ways to create interesting and delicious foods using tea. Most commonly, we see businesses using tea for baked goods and desserts, which is fantastic! However, we feel like tea has so much more to give! Savoury dishes also work very well with a variety of teas. Furthermore, tea and food pairings are also becoming more and more popular. Read our post on Tea and Cheese or an intro to Tea and Food Pairings to get started. Please contact operations@shantitea.ca today to learn more about our tea for food ideas.