Instructions
Serving Size: 2.5g /cup
Steeping Temp: 100°C
Steeping Time: 5 mins.
Certification: Organic
Origin: Albania
Caffeine: Caffeine Free
Lavender
Lavender is a genus of 39 species of flowering plants in the mint family, Lamiaceae. It is native to the Old World and is found from Cape Verde and the Canary Islands, southern Europe across to northern and eastern Africa, the Mediterranean, south west Asia to south east India. Many members of the genus are cultivated extensively in temperate climates as ornamental plants for garden and landscape use, and also commercially for the extraction of essential oils.
Story, Folklore, History...

The ancient Greeks called the lavender herb nardus, after the Syrian city of Naarda (possibly the modern town of Dohuk, Iraq). It was also commonly called nard. The species originally grown was L. stoechas.
Lavender was one of the holy herbs used in the biblical Temple to prepare the holy essence, and nard is mentioned in the Song of Solomon (4,14)
nard and saffron,
calamus and cinnamon,
with every kind of incense tree,
with myrrh and aloes,
and all the finest spices.
Tasting Notes
Certification: Organic
Grade or Quality: Flowers
Aroma: sweet, floral and woody
Infusion Aroma: floral, sweet
Infusion Color: light
Base flavor: Floral
Infusion Strength: light

Have you tried Lavender? Tell us what you think!
Please login or create an account in order to post a review and rating.
The Loves and Losses of Lady Sita -
by Richard Isaac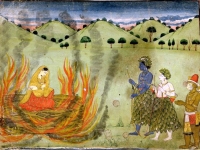 Chai, now widely known by tea lovers and aficionados alike, refers to a special tea made with spices and herbs for a unique flavor blend. The word chai is originally Persian, but may now refer to any number of spiced teas, and in many countries often implies an infusion made with milk.
Today chais are well-loved even by coffee drinkers, and most of the recipes mirror the ancient South Asian tradition of boiling milk and water with tea, spices, and sometimes sweeteners. Our Sita Chai can be made the same way, if you like, though it is good on it's own as well. Either way, it is best drunk with a story, so sit back, relax, and rest your mind in the tales of Ancient India.
The lovely Sita is highly regarded in Hindu mythology. An avatar (or manifestation) of the goddess Lakshmi, bestower of wealth, she was the daughter of the Earth goddess Bhūmi and was raised as a princess by adoptive...