Instructions
Serving Size: 2.5g /cup
Steeping Temp: 100°C
Steeping Time: 5 mins.
Certification: Organic
Origin: Various
Caffeine: Caffeine Free
Detox - Pure Infusion
A strong blend of herbs and roots with a lemony flavour. Refreshing and revitalizing!
Tasting Notes
Certification: Organic
Aroma: Citrus
Infusion Aroma: Woodsy and citrusy
Infusion Color: Yellow
Base flavor: Citrus
Infusion Strength: Medium-Strong

Have you tried Detox - Pure Infusion? Tell us what you think!
Please login or create an account in order to post a review and rating.
4 self-care routines using tea -
by Safiya Motala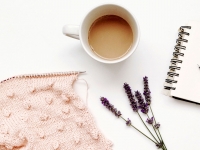 When you love tea as much as we do, you're always looking for ways to incorporate tea into different areas of your life. We hear a lot about self-care. It is important for mental and physical wellbeing, yet we often don't prioritize it.
When we ask people if they think tea fits into their ideas of self-care, we often get comments about tea and books. A cup of tea, a good book and a cozy spot. Sounds pretty perfect, doesn't it? The ritual of tea itself can be a type of self-care routine. A few minutes each day that are just for ourselves, doing something we know we will enjoy.
We have a few other suggestions on how tea can be a part of a daily self-care routine.
Baths
Bath bombs are great and lots of fun, but some of them can be full of ingredients that you may not want to soak your body in. Check out some of our favourite bath soaks.
For all of these soaks, we suggest using a reusable muslin cloth bag, cheesecloth, or a #4 t-sac....
---
Anchor your healthy habits with tea -
by Safiya Motala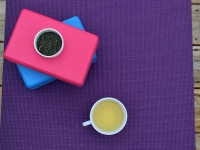 Developing new, healthy habits isn't as simple as swapping out an old habit that no longer serves us. It's an exercise in change management and it can often feel daunting, particularly during a change in seasons.
Can you relate to any of the following examples?
Practise yoga
Learn to meditate
Read more often
Get more sleep
Life often interferes with even the best intentions when it comes to developing healthy routines and habits. And if it doesn't, motivation (or lack thereof) can wane and have us dump that novel for Netflix in a heartbeat. It takes hard work, repetition and discipline to make healthy habits well, … habitual.
That's where tea comes in. Tea already offers a myriad of health benefits on its own thanks to its catechin (the main one is EGCG) and L-Theanine compounds. This makes it a natural complement to any new addition to your health regime. Tea is also comforting and it can be relaxing or energizing – and, most importantly, it is something you enjoy. Maybe at first, it&rsquo...