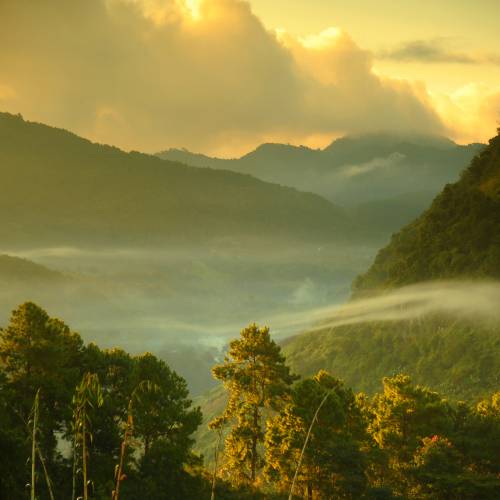 Darjeeling, the land from where the well-known and admired tea comes, famously described as the champagne of teas, is situated in the foothills of the Himalayas, located in the state of West Bengal, India. Ranging from 100-4200 meters, this mountainous region, borders Nepal, Bhutan and Tibet. The cool, damp climate, constant mist and the high elevation of Darjeeling combine to produce a flavor profile typical of Darjeeling. Presently Darjeeling has 87 gardens, spread over 17,500 hectares. It employs over 52,000 people of which 60 per cent are women. The region's economy is heavily dependent on tea. The Plantations Labor Act 1951 protects the rights of tea garden workers. Like Champagne grapes, Darjeeling tea achieved "Geographical Indication" status, protecting the name of "Darjeeling Tea" to be used only on teas produced in that region.
The seasonality of Darjeeling tea, described as flushes, bring out different flavor from the tea that is picked from the same plants during different times of the year.
There are three major tea flushes grown and harvested in Darjeeling:
First Flush (mid-March to May)
Second Flush (June to mid-August)
Third Flush (Autumn Flush) (October to November)
The time periods are not fixed and they depend on the weather patterns in Darjeeling region.
First Flush Darjeeling
The First Flush is the picking of the brand new two leaves and a bud, still tender new shoots, in the earliest spring growth of the plant, as early as mid-March and often lasting through May.
These early leaves are usually more delicate and tender, have an intense floral scent and appear more greenish in color than the second or third flush tea. First Flush Darjeeling is therefore more light, floral, fresh, brisk, and astringent in flavor. The infusion is light, clear and bright.
First Flush Darjeeling tea is some of the most prized and expensive on the market since they are produced in less quantity and are more dependent on the weather patterns in the early spring.
Second Flush Darjeeling
Second Flush Darjeeling tea leaves are picked from late May to June and produce an amazing well rounded, mature and fruity flavor of tea that is said to be less astringent and even better than the First Flush.
The tea leaves have purplish bloom and a fruity taste. The tea infusion has an amber hue and a pleasant astringency, very different from dark Assam or Ceylon teas.
Second Flush Darjeeling is unique because it clearly brings the unique muscatel flavor as no other tea in the world. The unique muscatel flavor - perhaps best described as a musky spice with sweet notes - is caused by a combination of unique weather, topography and plant types.
Third Flush Darjeeling
Third Flush Darjeeling (Autumn flush) begins by the end of October, once the monsoon has withdrawn from the misty hills, the rains tapered off, and the temperatures begun to drop. The tea bushes reduce their output as they move toward hibernation. It is the shortest of the harvests, and lasts just 30 or so days.
The infusion has a delicate yet sparkling character with a delightful flavor, distinct from both first flush and second flush with a round cup. The infused leaf has a coppery gold brightness with a sweet fresh scent.
Less floral and delicate than the previous flushes, autumn flush tea tends to be more deeply fruity, with scents of ripe grapes and berries. It is well-balanced with no sharpness, bite or astringency that typifies first and second flushes.
There is significantly less tea from this final harvesting period. With less quantity, only a limited amount makes it to public auction. Gardens generally sell their autumn flush privately to exporters and a few online retailers and tea boutiques.
Autumn is the personal favorite flush of many of India's most discerning tea tasters yet the autumn flush rarely makes it beyond India's borders.
Shanti Tea is now offering Darjeeling tea from each flush:
The names of our Darjeeling teas include the tea garden from where they were grown and manufactured. This is the authentic way of identifying these magnificent teas. Avongrove, Poobong, Makaibari, Selim Hill are tea gardens that have worked diligently to build their reputation of producing some of the world's best teas. Because it takes many years to build a good reputation, tea gardens work extremely hard to maintain the highest standards and protect their brand.
Our selection of tea gardens is limited to only those that have USDA-accredited Organic certification, located in higher elevations, and have a positive reputation for the well-being of their workers.