Instructions
Serving Size: 2.5g /cup
Steeping Temp: 88°C
Steeping Time: 3 min mins.
Certification: Organic
Origin: Various
Caffeine: Light
Blueberry White
Although our blueberry white is a great hot tea, it comes out wonderfully when iced and maintains its clean and sweet taste. The floral qualities of the Bai Mu Dan base are maintained and the blueberry essence doesn't overwhelm the palate. A perfect balance for those who love the taste of blueberries, and a great summertime drink! Blueberries are one of the only fruits native to North America. Blueberries are high in vitamin C, a strong antioxidant offering support for the immune system. Blueberries also contain fibre, folate, iron, manganese, potassium, calcium, magnesium, phosphorus, sodium, zinc, copper, B vitamins, vitamin E and silicon. All in one little, tiny berry!
Tasting Notes
Certification: Organic
Grade or Quality: Leaf
Aroma: Blueberry
Infusion Aroma: Light Blueberry
Infusion Color: Deep Gold
Base flavor: Berry
Infusion Strength: Medium-Light

Have you tried Blueberry White? Tell us what you think!
Please login or create an account in order to post a review and rating.
5 Healthy Iced Tea Recipes to Wow your Summer Guests -
by Safiya Motala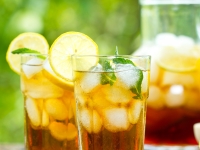 Summer is around the corner, and that means BBQ's, patios, and warm weather. It also means iced tea!
We really have fun with iced tea at Shanti Tea. Combining different teas, adding fruits, potentially adding booze… It's easy to make great iced tea, and it's generally healthier to drink iced tea than any other cold beverage (besides water). Many of our teas are sweet without sugars, so you can enjoy a sweet iced tea if you wish, with zero calories or sugar.
All of these recipes call for sparkling water, you can choose to omit that and just use cold, filtered water instead. Sparkling water is just there for the bubbles.
These are our favourite 5 recipes using healthy, organic ingredients from Shanti Tea.
Banana Colada
Let's start with an easy one. Banana Colada is delicious as is, it's herbal (caffeine-free) and has all the refreshing flavours of the tropics. We made this as a one-time seasonal blend last year, but our customers loved it SO much we brought it back again for another year.
Ingredients:<...