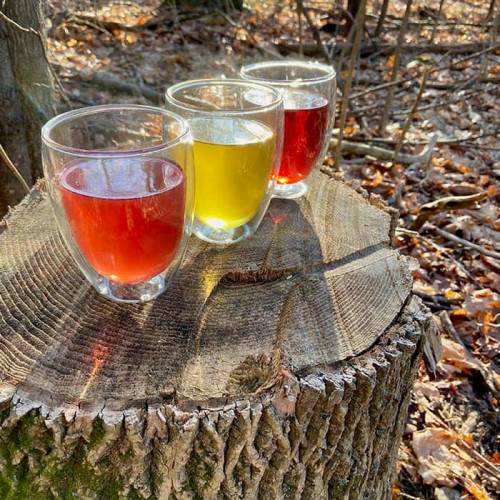 Choose colourful teas for wellness
It's no surprise that three of our wellness teas are also three of our most colourful. Packed with antioxidants, healing herbs and anti-inflammatory compounds, these vibrant teas are much more than a warm beverage. Blended with ingredients known to positively contribute to health and well-being, consider adding this powerful trio to your routine this winter before you start to feel run down, or to power up your #newyear2020resolutions
A rich combination of malty black tea, dark berry flavours and tart hibiscus naturally sweetened by beetroot pieces. This tea is caffeinated, so you may want to enjoy it earlier in the day.
Colour: Its deep red infusion colour is derived from beetroot and hibiscus.
Health benefits: Black tea is rich in antioxidants, flavonoids, polyphenols, L-Theanine and some minerals. The benefits of these compounds are many and can include reduced cholesterol, heart health benefits, digestion, reduction in blood pressure and blood sugar, improved skin health, focus and concentration and lower stress levels. Beetroot, elderberries and hibiscus all contain antioxidants and vitamin C. In addition to helping with detoxification, the nutrients in these three ingredients may also help boost immunity and combat cold and flu symptoms.
A sweet, spicy and warming blend of healing herbs and spices including ginger root, peppermint, tulsi, cinnamon, cardamom and hibiscus. This tea is caffeine-free.
Colour: Its golden red/deep pink infusion colour is derived from hibiscus.
Health benefits: There are many benefits of consuming ginger root. It can help lower the risk of infections and obstruct the growth of many different types of bacteria. Ginger is also heart healthy and has been linked to lowering cholesterol levels in some studies. Due to the compound gingerol, ginger offers anti-inflammatory benefits and an abundance of antioxidants. Cinnamon can help maintain healthy blood glucose levels while also preventing cold and flu and reducing inflammation. In addition, peppermint is known to help with digestion while tulsi offers powerful medicinal and healing properties.
Rich, smooth, warming and comforting, this delicious turmeric tonic also includes cinnamon, ginger and lemongrass. Golden Tonic is caffeine-free.
Colour: Its deep yellow infusion colour is derived from turmeric.
Health benefits: The most active compound in turmeric is curcumin. It is good for digestion, skin and hair. Curcumin boosts immunity, balances hormone levels and is also anti-inflammatory, which means consuming turmeric can help reduce muscle pain, and reduce chronic disease due to chronic inflammation. It is important to take turmeric along with black pepper, which will help your body absorb the healing benefits of curcumin. In addition to curcumin, this tea blend also contains ginger and cinnamon which both contribute additional anti-inflammatory compounds as well as antioxidants. Lastly, lemongrass has been used as a sedative, as well as to relieve headaches, stomach upsets and to help ease the symptoms of the common cold and sore throat.
Give these three colourful teas a try if you are looking to add more wellness blends to your tea line up this winter!