Instructions
Serving Size: 2.5g /cup
Steeping Temp: 100°C
Steeping Time: 5-10 covered mins.
Certification: Organic
Origin: Various
Caffeine: Naturally caffeine-free
Vitality
Vitality is a delicious turmeric tea blend, with sweet and spicy notes from the added spices. Try alone or as a delicious and comforting tea latte. It contains anti-inflammatory ingredients, with the main ingredient being turmeric. Curcumin is the compound in turmeric which gives it it's yellow colour, and it is also responsible for the anti-inflammatory benefits of turmeric. Black pepper aids in the absorption of curcumin. This combo might also be good for pain relief, improved memory performance, enhanced energy and better mood.
Tasting Notes
Certification: Organic
Aroma: Spicy, cinnamon notes, earthy
Infusion Aroma: Sweet and spicy, notes of pepper, ginger and cinnamon
Infusion Color: Yellow
Base flavor: Spicy
Infusion Strength: Medium

Have you tried Vitality? Tell us what you think!
Please login or create an account in order to post a review and rating.
Health: Ginger Root -
by Safiya Motala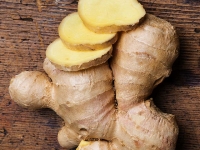 Latin: Zingiber officinale. Ginger is in the same family as turmeric, cardamom and galangal.
The history of ginger in food and health is long and diverse. It was used as a tea, the fresh root grated and infused in boiling water for 15 minutes to treat ailments such as bronchitis, colds, congestion, fatigue, cramps, cold hands and feet and digestive issues. It was also considered to be an aphrodisiac. In addition to the health benefits, ginger also has a rich culinary and folklore history.
Health
There are many potential benefits of consuming ginger root, read 10 of those below:
Fights infections: Gingerol can help lower the risk of infections and obstruct the growth of many different types of bacteria.
Great for teeth! The properties which help ginger root fight infections is also linked to combatting gingivitis and periodontitis.
Lowers cholesterol: Ginger is heart healthy! It has been linked to lowering cholesterol levels in some studies.
Eases muscle pain: With continued use, ginger has shown to relieve muscle pain related to exercise.