Instructions
Serving Size: 2.5g /cup
Steeping Temp: 100°C
Steeping Time: 5 mins.
Certification: Organic
Origin: South Africa
Caffeine: Caffeine Free
Vanilla Rooibos
Deliciously sweet and aromatic blend of crisp green rooibos and nutty red rooibos with soft hints of vanilla. Great tea for long infusions and a good book. Delicious with added milk and honey too. Naturally caffeine free and full of antioxidants.
Tasting Notes
Certification: Organic
Aroma: Vanilla, honey
Infusion Aroma: Nutty, vanilla
Infusion Color: Deep Amber
Base flavor: Sweet
Infusion Strength: Medium

Have you tried Vanilla Rooibos? Tell us what you think!
Please login or create an account in order to post a review and rating.
Recipes: Matcha Donuts -
by Safiya Motala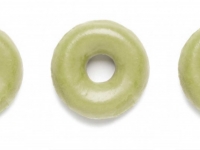 Matcha is amazing for so many reasons. One of those is how delicious it is in baked goods!
At Shanti Tea, we try to keep things healthy, but we still crave sweets! We took a good old-fashioned donut recipe and added matcha to the batter. We wanted to keep the glaze simple, but we also tried mixing it up a bit. See below for suggestions on how to top your matcha donut differently!
Special Equipment: Donut cutter Deep fryer, or large saucepan
Ingredients:
DOUGH
1 1/2 c. granulated sugar
3 1/2 T. butter, softened
1 1/2 c. milk
1 egg plus 1 egg yolk
6 c. all-purpose flour (divided)
4 tbsp Ingredient Matcha
4 1/2 tsp. baking powder
3/4 tsp. salt
3/4 tsp. ground cinnamon
3/4 tsp. ground nutmeg
Vegetable oil for frying
GLAZE
¼ cup whole milk
1 tsp vanilla extract
2 cups powdered sugar
<...