Instructions
Serving Size: 2.4g /cup
Steeping Temp: 88°C
Steeping Time: 3 min mins.
Certification: Organic
Origin: China
Caffeine: Light
Strawberry White
A seductively fragrant blend of white tea, rosehips, safflowers, and strawberry essence, with a sweet taste and a fruity aroma. An excellent accompaniment to desserts.
Story, Folklore, History...

Strawberries have grown wild for millennia in temperate regions throughout the world. They were highly prized by many ancient Romans for their sweetness. In the Middle Ages, they were prized again, more so for their medicinal qualities than delicious flavour. Today, the strawberry is the most popular type of berry fruit in the world. There are more than 600 varieties of strawberries that differ in flavor, size and texture.
Directions...
Strawberry White makes a great iced tea! Learn how to make a perfect iced tea on our blog.
Tasting Notes
Certification: Organic
Grade or Quality: Full Leaf
Aroma: Sweet Strawberry
Infusion Aroma: Strawberry
Infusion Color: Red
Base flavor: Strawberry, hint of floral
Infusion Strength: Medium-Light

Have you tried Strawberry White? Tell us what you think!
Please login or create an account in order to post a review and rating.
Delicious as an iced tea - either plain, or with an ice cube or 2 made of lemonade.

Submitted by Header
Love this one! As good hot as it is with ice cubes!

Submitted by a_kassa
Love this tea, and the subtle strawberry flavour. Not too overpowering and is extremely refreshing

Submitted by Marrello
I found this one lost the strawberry flavour when hot (but that may have been my fault), but I look forward to trying it as an ice tea!!

Submitted by GemStone Teas
Strawberry White has been one of my favourites for a while now. It's really good hot, but also makes a good cold tea. I like to make a big pot of it & throw it in the fridge. My customers love it, too!

Submitted by FOHTY
Wow!
The strawberry aroma in that blend is out of this world!

Submitted by Tea man
I've only tried this as an iced tea (overnight cold infusion). While I find it light and refreshing, it also makes me think of liquid jello preparation…

Submitted by Marieve
I LOVE this tea! I am not normally a green/white tea fan, but this one is amazing. I could drink it daily.

Submitted by tbird
Awesome white tea, smells a little too sweet off the bat, but once steeped it has a perfect level of sweetness to it.

Submitted by vze
Very fruity and refreshing. Amazing as an iced tea as well!

Submitted by hollysandra
Definitely my favourite white tea I've tried. I've shared among friends and they agree!

Submitted by MJay22
I will have to try this tea iced. I found the fruit was overwhelmed by the astringency when made hot (despite steeping at a lower temp).

Submitted by J
Lovely! So sweet and light! Definitely one of my favorite morning teas to drink in the morning and I cannot wait to try it iced!

Submitted by qualiTEA
Absolutely love this! I haven't had the chance to try it as an iced tea, since I keep having it as wonderful warm tea. Yum!

Submitted by donnelly
How to make delicious iced tea -
by Shanti Tea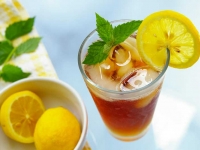 Spring is here, time to break out the iced tea!
There are quite a few methods for making iced tea, selecting the right method really depends on the tea leaves or herbs you are using to make the infusion. You can use any kind of tea or herb to make iced tea, but some are a bit more temperamental and require a bit more attention. Over the past years we've held quite a few iced tea-making workshops so some of our Ottawa customers are probably already familiar with a lot of these iced tea methods, but in case you need a refresher, read on. This guide is intended to help you figure out which method is best for your tea of choice. At the end of the guide will be some links to Shanti Tea's Iced Tea Pouches, which will make iced tea-making this summer deliciously effortless.
Iced Tea Preparation: Read It In The Leaves
The most important factor which determines the...