Instructions
Serving Size: 2.5g /cup
Steeping Temp: 100°C
Steeping Time: 5 mins.
Certification: Organic
Origin: USA
Caffeine: Caffeine Free
Skullcap
Skullcap is traditionally known as a 'nervine', helping to relax the nervous system and reduce anxiety, nervousness and stress. It has mildly sedating effects, which can help promote sleep. It has also been used to help relieve the pain associated with menstruation.
Tasting Notes
Certification: Organic
Grade or Quality: C/S
Base flavor: Berry

Have you tried Skullcap? Tell us what you think!
Please login or create an account in order to post a review and rating.
Tea Scones -
by Safiya Motala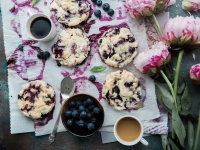 I don't know about you, but a strong cup of black tea with milk is almost guaranteed to make me think of scones. Scones are quick to make (takes about 15 minutes), and made with ingredients you likely already have in your house. Fresh baked scones are delicious served right out of the oven with a dollop of butter or heavy cream, but also great with jams or other spreads. The great thing about this recipe is you can make it sweet or savoury, and add ingredients of your choosing.
My favourite way to make these scones is exactly as the recipe dictates, but adding in a handful of raisins. When using dried fruit, it's helpful to soak it in a cup of hot water for 5 minutes or so to help soften them up before you add it to the batter.
Basic scones
Ingredients:
2 cups all purpose flour
3 tbsp sugar (or sweetener of choice)
1 ½ tsp baking powder
¼ tsp salt
1/3 cup cold butter, diced
1 cup milk
Directions:
Preheat oven to 425&deg...
---
Health: Spices to Warm Up With -
by Safiya Motala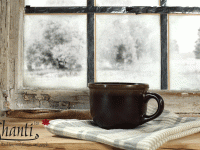 With the change in seasons, a lot of us are beginning to think about cooler weather and getting prepared for that. It's instinctual and for a good reason. We want to prepare ourselves physically and mentally as well as ensuring we have the necessary products to survive. These days survival is less of an issue during colder months, but it is always important to make sure you're well prepared. That's how we enjoy a happy and healthy winter!
Shanti Tea offers a wide range of teas, herbs, and spices that are great for cooler weather. Learn more so you can stock up and be ready for anything.
Warming herbs:
Cinnamon

What it does: This sweet and spicy ingredient helps to stimulate circulation. It also helps to maintain healthy blood-glucose levels and aid in digestion while providing a great source of antioxidants.
How to use it: Use cinnamon in all sorts of recipes. Add to oatmeal, smoothies, curries, salads, sauces, the list goes on! If you want to enjoy...