Instructions
Serving Size: 2.5g /cup
Steeping Temp: 100°C
Steeping Time: 2 to 5 mins.
Certification: Organic
Origin: India
Caffeine: High
Cardamom Tea (Om Chai)
Om Chai is a blend of black tea, cardamom and cloves, which produces a wonderfully fragrant, lightly spiced and warming afternoon tea. That amazing smell is due to many volatile oils that the cardamom contains which are incredibly anti-inflammatory. It is our simplest blend of Indian tea and spices but in simplicity comes a great flavor.
Cardamom's aroma can be intoxicating. Its nature is to clear what is muddled, confused, weighted down. Clears the mind from over thinking, creating a peaceful place to make decisions. Cardamom can also have a rejuvenating effect on those who feel exhausted by the challenges of life. So take some time to create a sacred moment in your day, to sit quietly and experience the sensation our OM Chai brings you. [OM]
Tasting Notes
Certification: Organic
Grade or Quality: GBOP
Aroma: spicy sweet, cloves
Infusion Aroma: cardamom, slight sweetness
Infusion Color: Dark amber
Base flavor: Earthy
Infusion Strength: Strong

Have you tried Cardamom Tea (Om Chai)? Tell us what you think!
Please login or create an account in order to post a review and rating.
Whiskey Chai Toddy -
by Safiya Motala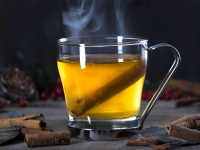 Before we dive into the recipe for our new favourite cold weather warm up, check out some of the history behind this classic brew.
History of the Hot Toddy
Toddies came from India, the fermented sap of the toddy plant, named tari in Hindi. The British brought back a version of this brew, and originally it was served cold. Eventually, this brew was served hot as a comforting beverage with the same mix of spirits and spices.
The hot toddy was based on a Scottish cold remedy of whisky, hot water, and spices such as nutmeg or clove. Suggestions that the name comes Tod's Well, a source of spring water outside of Edinburgh.
In Dublin, Ireland, Dr. Robert Bently Todd would recommend a brew of hot whisky, lemon and cinnamon.
These are just a few theories about the origins of the hot toddy. One other story is that the Hot Toddy was a drink for Scottish women who didn't enjoy the taste of Scotch. In American history, the legend goes that colonists used toddies as a liquid courage during the...