Instructions
Serving Size: 2.5g /cup
Steeping Temp: 100°C
Steeping Time: 5 mins.
Certification: Organic
Origin: Albania
Caffeine: Caffeine Free
Mullein Leaf
Green coloured leaf with a leafy, senna like aroma and dry leafy flavour.
The dried leaves were traditionally used as a tea supporting pulmonary and respiratory function. Mullein has anti-bacterial properties that are used to reduce infection and inflammation.
Tasting Notes
Certification: Organic
Grade or Quality: C/S
Base flavor: Earthy

Have you tried Mullein Leaf? Tell us what you think!
Please login or create an account in order to post a review and rating.
Anchor your healthy habits with tea -
by Safiya Motala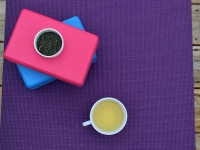 Developing new, healthy habits isn't as simple as swapping out an old habit that no longer serves us. It's an exercise in change management and it can often feel daunting, particularly during a change in seasons.
Can you relate to any of the following examples?
Practise yoga
Learn to meditate
Read more often
Get more sleep
Life often interferes with even the best intentions when it comes to developing healthy routines and habits. And if it doesn't, motivation (or lack thereof) can wane and have us dump that novel for Netflix in a heartbeat. It takes hard work, repetition and discipline to make healthy habits well, … habitual.
That's where tea comes in. Tea already offers a myriad of health benefits on its own thanks to its catechin (the main one is EGCG) and L-Theanine compounds. This makes it a natural complement to any new addition to your health regime. Tea is also comforting and it can be relaxing or energizing – and, most importantly, it is something you enjoy. Maybe at first, it&rsquo...