Instructions
Serving Size: 2.5g /cup
Steeping Temp: 78°C
Steeping Time: 2 mins.
Certification: Organic
Origin: China
Caffeine: Medium Light
Jasmine Dragon Pearls
Our finest Chinese jasmine green tea. Long graceful greenish leaf and slender silver buds are hand rolled into pearls which produce a delicate, aromatic, yellow liquor and a nose that reveals the sweet complexity of jasmine blossom and spearmint. Each pearl combines two delicate leaves and an unopened bud. When added to water, the pearls majestically unfurl, releasing their delicate scent and flavor. While not cheap, this tea is well worth the experience.
Story, Folklore, History...

Grown in a mountainous, fog shrouded area at the border of the Fujian and Jiangxi provinces, Dragon Pearl (often called Dragon Phoenix Pearl), gets its name from the tea bushes "climbing the hillsides like a Dragon rising from the waters".The tea is plucked in early spring and stored until late summer when the finest night-Jasmine flowers are in bloom. The tea is then scented with the jasmine flowers over several consecutive nights.
Tasting Notes
Certification: Organic
Grade or Quality: Leaf
Aroma: Jasmine
Infusion Aroma: Jasmine
Infusion Color: Gold
Base flavor: Light jasmine, buttery finish
Infusion Strength: Medium-light

Have you tried Jasmine Dragon Pearls? Tell us what you think!
Please login or create an account in order to post a review and rating.
I have had Jasmine Dragon pearls from several tea providers and Shanti has the freshest and best flavoured pearls. Highly recommend!

Submitted by pbiogal
Absolutely the most delicious Jasmine Green tea I've ever tasted! Soft, fragrant tea without any bitterness. Will definitely order again!

Submitted by AnimaMundiB&B
Love this tea! Too expensive to order frequently but well worth it the few times I did.

Submitted by Henrike
lOVE that scent it's so magical!

Submitted by Tea man
I hated green tea in the past until I tasted Jasmine Dragon Pearls. I use the pearls 3x. It may seem expensive but it does last. Boxed green tea costs almost the same over a similar time period.

Submitted by kraut1953
Charming tea all around. Pretty to watch it steep, fragrant and smooth.

Submitted by Banting95
This came in my sampler package. I let it infuse in my french press so I could watch the pearls unfurl. Such a lovely sight! When I put it in my tea pot to enjoy with my sister and I, she was quite taken. She said it reminded her of our Florida home. I thank Shanti for bringing this special moment to us!

Submitted by Eurkin
Beautiful smooth light but still full flavour

Submitted by JCW
Lovely jasmine and excellent for company - use it with a glass bodum to show the beautiful blossoms. A keeper for entertaining and personal enjoyment!

Submitted by donnelly
On the Finer Side Of Dragons -
by Shanti Tea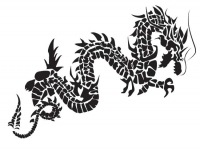 Start by boiling some water, filling a mug with a few pearls of our Jasmine Dragon green tea, and pouring the hot water over them. Watch as they unfurl with grace, and imagine, for just a moment while the smells waft toward you, that a dragon appears when you least expect it. What would your reaction be?
Interestingly, it would probably have a lot to do with your upbringing. In ancient Europe, dragons were fearsome, destructive creatures. However, the dragon is one of the most revered symbols in all of China even today, making regular appearances at festivals, parties and New Year's celebrations as a symbol of luck and happiness.
In ancient times, though, when people believed less in science and more in myth, its power was understood by all to be absolutely supreme. According to legend, the very first dragon appeared to the mythical emperor Fu-Shi in order to right several wrongs that had occurred at the hands of the monster Kung Kung.
Kung Kung, who was said to have rent a huge hole in the sky, was a terrible...