Instructions
Serving Size: 2.5g /cup
Steeping Temp: 100°C
Steeping Time: 5 mins.
Certification: Organic
Origin: Various
Caffeine: High
Irish Cream
The holiday where EVERYONE is Irish! Join in the fun, this creamy black tea blend combines the Irish love of strong black tea with the popular taste of Irish Cream. Recommended to drink with added milk for a more creamy taste. Guilt free indulgence, but we won't tell if you swap that milk in your tea for Baileys. Top of the morning to you!
Tasting Notes
Certification: Organic
Grade or Quality: Blend
Aroma: Creamy, sweet
Infusion Aroma: Malty, creamy and sweet Irish cream
Infusion Color: Deep Amber
Base flavor: Nutty
Infusion Strength: Strong

Have you tried Irish Cream? Tell us what you think!
Please login or create an account in order to post a review and rating.
Irish Tea Customs -
by Safiya Motala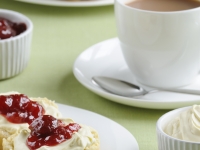 Considering this month is the well-known Irish patron saint holiday, St. Patrick's Day, we thought a little information on Irish tea customs would be suitable for our first post of the month. A cup of tea in Gaelic is "cupan tae", and tea is often pronounced something like "tay".
Ireland is one of the top tea consuming per capita countries in the world, averaging around 5 cups of tea per person per day. Tea in Ireland has a rich history, as tea tends to do in most countries around the world. It has been consumed since the nineteenth century. During the introduction of tea to Ireland, the cost of tea was incredibly high. It was only the wealthy who could truly afford it, although the middle-class would indulge occasionally to entertain guests. Often, the quality of tea was poor, so they would add plenty of milk to improve the flavour, and would, therefore, strengthen the brew as to not be overpowered by the large amount of milk. By the beginning of the twentieth century, tea was widely accessible and consumed in basically every home. Typically, the tea types consumed in Ireland are ...