Instructions
Serving Size: 2.5g /cup
Steeping Temp: 100°C
Steeping Time: 5 mins.
Certification: Organic
Origin: USA
Caffeine: Caffeine Free
Dandelion Leaf
Dandelion is a plant that is native to Europe but found throughout the Northern Hemisphere. In many part of the world, it's consumed as food (fresh leaves are used in salads) and also has a prominent role in herbal therapy. In traditional Chinese medicine, dandelion is used to support liver health, nourish bones and joints, and stimulate healthy bile flow. Dried dandelion leaves are suitable for making tea. To make tea, pour 8 ounces of boiling water over one heaping teaspoon of dried dandelion leaves and allow to steep for five to 10 minutes.
Tasting Notes
Certification: Organic
Grade or Quality: C/S
Base flavor: Vegetal

Have you tried Dandelion Leaf? Tell us what you think!
Please login or create an account in order to post a review and rating.
Choose colourful teas for wellness -
by Richard Isaac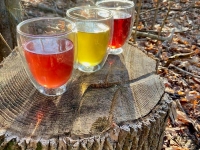 Choose colourful teas for wellness
It's no surprise that three of our wellness teas are also three of our most colourful. Packed with antioxidants, healing herbs and anti-inflammatory compounds, these vibrant teas are much more than a warm beverage. Blended with ingredients known to positively contribute to health and well-being, consider adding this powerful trio to your routine this winter before you start to feel run down, or to power up your #newyear2020resolutions
A rich combination of malty black tea, dark berry flavours and tart hibiscus naturally sweetened by beetroot pieces. This tea is caffeinated, so you may want to enjoy it earlier in the day.
Colour: Its deep red infusion colour is derived from beetroot and hibiscus.
Health benefits: Black tea is rich in antioxidants, flavonoids, polyphenols, L-Theanine and some minerals. The benefits of these compounds are many and can include reduced cholesterol,...