Instructions
Serving Size: 2.5g /cup
Steeping Temp: 78°C
Steeping Time: 2 mins.
Certification: Organic
Origin: Japan
Caffeine: Medium
Ceremonial Matcha
This bright green, extra-fine, stone-ground matcha, one of the highest grades available, is smooth, velvety, fresh and delicately sweet.
This tea is best enjoyed in its purest form, whisked and prepared in tea ceremony style, it is the perfect choice to invigorate your mind and body. It can also be enjoyed with a little bit of sweetness or with added steamed milk.
What is Matcha?
Matcha is finely ground de-veined green tea leaves. Renowned for its use in the historic Japanese tea ceremony. It is a vivid green tea powder valued for its concentrated taste, mellow umami sweetness and the health benefits of a high antioxidant content, fiber and chlorophyll. One cup of matcha has the nutritional equivalent of ten cups of infused green tea.
Storage: Always store in a cool, dark place away from heat, humidity, direct sunlight, and odors. Matcha is extremely sensitive to light and heat. Once a package has been opened, keep in the airtight tin and store in the fridge.
Food pairings: Matcha works well with white chocolate, cheese, rich dairy, lightly cooked vegetables, and most seafood.
Tasting Notes
Certification: Organic
Grade or Quality: Powder
Base flavor: Sweet

Have you tried Ceremonial Matcha? Tell us what you think!
Please login or create an account in order to post a review and rating.
Matcha – a Superfood -
by Richard Isaac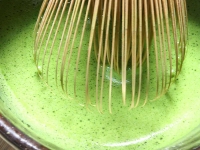 Matcha is certainly among the earth's "Superfoods". Matcha is a stone ground green tea, traditionally used in Japanese tea ceremony since about 2000 years ago. In the world of tea Matcha surpasses other kinds in its health promoting content. Why? When you drink steeped green tea, much of the antioxidants remain in the tea leaves, never to be consumed. While drinking Matcha, the whole leaf is being consumed so with it, all the antioxidants (catechin polyphenols), chlorophyll, vitamins, trace minerals and L-theanine is being consumed as well.
How is Matcha Produced?
Not any tea leaf can be ground, turn into powder and be called Matcha. It has to go through a specific process. The process starts with a selection of good green tea varieties. Most Matcha is made from Yabukita varietal, the most popular in Japan, although very good quality of Matcha also comes from samidori or okumidori varietals. The area where the tea is grown has a fundamental importance. Good green tea growing prefectures in Japan will produce the best...