Instructions
Serving Size: 2.5g /cup
Steeping Temp: 100°C
Steeping Time: 2 to 3 mins.
Certification: Organic
Origin: India
Caffeine: High
Black Maple
One of our Canadian best-sellers, the familiar flavor of maple predominates this tea, and is carried well by the simple Indian black tea base. If you've ever been to the sugar shack, or have a thing for maple, you wont want to miss this one. A great breakfast tea, especially with pancakes. Hooked? Let us know!
Tasting Notes
Certification: Organic
Grade or Quality: TGFOP
Aroma: maple sweetness
Infusion Aroma: earthy, maple
Infusion Color: Amber
Base flavor: Sweet
Infusion Strength: Medium Strong

Have you tried Black Maple? Tell us what you think!
Please login or create an account in order to post a review and rating.
Bring the cabane à sucre to you, with maple teas! -
by Richard Isaac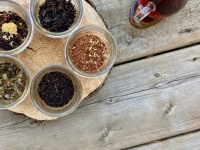 Bring the cabane à sucre to you, with maple teas!
It doesn't get any sweeter (or more Canadian) than maple season! Every year from February-April, farmers in eastern Canada extract the sugary sap from trees to produce maple syrup. According to Agriculture and Agri-Food Canada, Canada produces 85% of the world's maple syrup!
Maple trees produce sugar during the summer before storing it as starch in their root tissues in the winter. The warmer spring temperatures coax the sugar maple trees to turn their stored starch back into sugar. Farmers or sugar-makers tap the trees by drilling a hole in the trunk and attaching a spout with a bucket below to catch the sap.
A popular tradition during maple season is to visit a cabane à sucre, or sugar shack. Visitors to one of these cozy cabins in the woods will enjoy a large feast of bacon, eggs, sausages and pancakes with plenty of fresh maple syrup. Guests will also learn all about the process of making maple syrup and enjoy some...