Instructions
Serving Size: 2.5g /cup
Steeping Temp: 100°C
Steeping Time: 5 mins.
Certification: Organic
Origin: Various
Caffeine: Naturally caffeine-free
African Carnival
This herbal blend is an exciting combination of herbs, fruit and flowers. It embodies the smells and flavours of the African festival season and piques all of your senses creating an experience that walks a fine line between excitement and relaxing escape. The carnival culture of Brazil and the Caribbean stems from African traditions, since Africans has an ancient tradition of parading and moving in circles through villages wearing masks and costumes. Festivals were believed to heal problems, calm angry relatives who died and to bring good fortune.
Story, Folklore, History...

The well-known festival called Carnival (literal translation is farewell to meat, part of a Catholic tradition that marks the time before Lent), was celebrated in Europe during the Middle Ages and is celebrated today all over the world. It can be traced even further back to African roots, celebrations of the harvest to honour spirits that are still practised today. The spread of Europeans to the Caribbean brought the tradition of Carnival from Europe and the colourful dress, dancing, music and celebration from Africa.
Tasting Notes
Certification: Organic
Grade or Quality: Loose
Aroma: Honey, floral, sweet
Infusion Aroma: Sweet flowers
Infusion Color: Deep Yellow
Base flavor: Honey, fruity
Infusion Strength: Medium-light

Have you tried African Carnival? Tell us what you think!
Please login or create an account in order to post a review and rating.
That tea with the funny-spelled name -
by Richard Isaac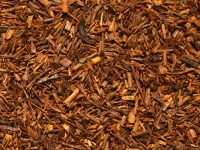 ROY-bus. Though it make not look like it, next time you walk into your favorite tea shop, it's the right way to ask for a cup of that yummy "rooibos" stuff. But the way you say it's just the start—Rooibos, that deliciously sweet herbal blend that seems to be cropping up at every tea (and now, coffee!) shop has got a pretty sweet story, too.
Rooibos, translated from Africaans, means 'Red Bush', a.k.a. 'Bush Tea' or 'Red Tea.' It's a green shrub native to South Africa, grown in a small area in the Cederberg region of the Western Cape Province. Once picked, the shrub's leaves are oxidized, creating that distinct reddish color and signature flavour rooibos is known for. (Of course, if we're talking green rooibos, the leaves don't need to be oxidized. Instead, they're processed more in the manner of traditional green tea. But more on that to come!).
Rooibos is naturally caffeine free, and has been consumed for hundreds of years by the natives of the Cape...