Instructions
Serving Size: 2.5g /cup
Steeping Temp: 100°C
Steeping Time: 2 (up to 5 with milk) mins.
Certification: Organic
Origin: Various
Caffeine: High
Shanti Chai
Chai is a sweet and spicy tea renowned for its fragrant aroma. Chai means tea. Masala chai is spiced tea made from a combination of black tea and aromatic spices, originated in India. Healthy, stimulating, and digestive aid. We are thrilled to be adding Shanti Chai to our collection! Our new signature chai is strong, flavourful, spicy and sweet. Notes of ginger, fennel and cinnamon blend perfectly with a strong and rich black tea base. Shanti Chai makes great chai lattes with any type of milk.
Tasting Notes
Certification: Organic
Grade or Quality: Loose
Aroma: Rich, notes of spices and ginger
Infusion Aroma: Malty, spicy, sweet
Infusion Color: Dark Amber
Base flavor: Sweet combination of cinnamon, fennel and ginger, hint of cloves and spicy finish
Infusion Strength: Medium-Strong

Have you tried Shanti Chai? Tell us what you think!
Please login or create an account in order to post a review and rating.
Very good Chai. Definitely a staple tea to have on hand all the time!

Submitted by mrsdooley
Delicious masala. I have to infuse a lot of it to have the spices that I like though.

Submitted by Kalaane
Very good chai that is not to overpowering with spice.

Submitted by perkscoffee
Really enjoyed this chai. I usually make my own but this is a great go to when I don't have time to make my own chai.

Submitted by Henrike
this is a very tasty chai, though I do prefer more of a spicy chai, this one is more soothing and delicious. I really enjoyed the taste..it tasted organic and not full of other additives

Submitted by Julia0410
Although my preference is to have a chai tea that a little more on the spicy and strong side, this is a very nice version. It is perfect for those who do not want an overbearing flavour of the spices traditionally used in chai tea. I have to brew about 2 teaspoons of tea to get it to the strength I like.

Submitted by Demeena
This is the best tasting chai I have ever had. Have recommended the Masala chai to my tea-loving friends.

Submitted by socojo
Thanks Jocelyne! We worked really hard to perfect this chai, it is perfect to drink black, with milk, as a chai latte or as a traditionally prepared chai. The flavours are very well balanced and rich. Enjoy!!

Submitted by smotala
My favourite chai of the ones I've tried so far.

Submitted by Jocelyne
How to make the perfect masala chai -
by Safiya Motala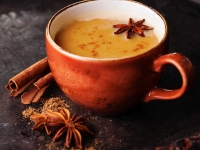 If you walk into any Indian family kitchen and ask for the recipe for perfect masala chai, it is guaranteed that you will never get the same answer twice. There is no hard rule for this beverage, but that doesn't mean there aren't easy guidelines to follow.
First things first, chai means tea. If you say "can I have some chai tea", you're essentially saying "can I have some tea tea". What you likely mean to say is masala chai (as in, tea with a blend of spices). Masala is the Indian term for a mixture of spices.
Masala chai was around far before tea made it's way to India. Some date the history up to 9000 years ago! Before the 1930's when tea was introduced to the Indian market, masala chai was simply a blend of spices infused for medicinal properties in Ayurveda and did not contain any tea.
If you want to make your own traditional style masala chai from home, there are only a few things you will need:
---
Whiskey Chai Toddy -
by Safiya Motala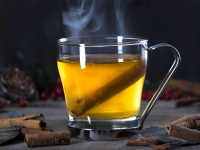 Before we dive into the recipe for our new favourite cold weather warm up, check out some of the history behind this classic brew.
History of the Hot Toddy
Toddies came from India, the fermented sap of the toddy plant, named tari in Hindi. The British brought back a version of this brew, and originally it was served cold. Eventually, this brew was served hot as a comforting beverage with the same mix of spirits and spices.
The hot toddy was based on a Scottish cold remedy of whisky, hot water, and spices such as nutmeg or clove. Suggestions that the name comes Tod's Well, a source of spring water outside of Edinburgh.
In Dublin, Ireland, Dr. Robert Bently Todd would recommend a brew of hot whisky, lemon and cinnamon.
These are just a few theories about the origins of the hot toddy. One other story is that the Hot Toddy was a drink for Scottish women who didn't enjoy the taste of Scotch. In American history, the legend goes that colonists used toddies as a liquid courage during the...