Instructions
Serving Size: 2.5g /cup
Steeping Temp: 100°C
Steeping Time: 5 mins.
Certification: Organic
Origin: India
Caffeine: Caffeine Free
Safflower
Safflower is a highly branched, herbaceous, thistle-like annual. It is commercially cultivated for vegetable oil extracted from the seeds. Plants are 30 to 150 cm tall with globular flower heads having yellow, orange, or red flowers. Each branch will usually have from one to five flower heads containing 15 to 20 seeds per head. Safflower is native to arid environments having seasonal rain. It grows a deep taproot which enables it to thrive in such environments.
Safflower has a strong, but pleasant taste. As an herbal tea, it comes with many health benefits. For thousands of years, safflower was mostly used for its beautifully vivid colour. The bright yellow and red plant was cultivated as a multipurpose dye. Items dyed by the safflower plant were usually items of value, and often used in religious ceremonies.
Today, organic safflower tea is used as a drink for those who want to relax, enjoy the aroma, and to help improve their overall health.
Story, Folklore, History...

Safflower is one of humanity's oldest crops. Chemical analysis of ancient Egyptian textiles dated to the Twelfth dynasty identified dyes made from safflower, and garlands made from safflowers were found in the tomb of the pharaoh Tutankhamun.
Tasting Notes
Certification: Organic
Base flavor: Spicy

Have you tried Safflower? Tell us what you think!
Please login or create an account in order to post a review and rating.
It's Tea Party Time -
by letitbeamandad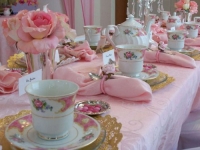 With the launch of the new website, we thought we'd celebrate with a special kind of party...A tea party! Why not throw yourself your own tea party too? For many of us, gone are the days of Alice and Wonderland with magical white bunnies and tea in a fantasy worlds, but that doesn't mean we can't have a little fun with tea and good company. In fact, tea parties have been a tradition for centuries. In England, the tradition of Afternoon Tea was established with Anna the Duchess of Bedford, who began drinking tea and scones as a light snack in between meals. Unlike the name would suggest, afternoon tea started by high up royalty such as Anna, is actually referred to as "low tea" in this tea culture. This is the type of tea that you would expect to see light elegant tea sets, floral designs, finger food, and desserts usually served in the mid-afternoon. "High tea" refers to tea served after a hard days work, perhaps a little later in the afternoon or evening and may be less fancy but of course, can be equally enjoyable. What's even better is that you...