Instructions
Serving Size: 2.5g /cup
Steeping Temp: 100°C
Steeping Time: 5 mins.
Certification: Organic
Origin: Shanti Blend
Caffeine: Caffeine Free
Red Maple Spice
A lingering spice softened by sweet maple, Red Maple Spice is one of our favourite maple blends. The color, aroma and flavor profile match incredibly well and create a full multi-sensory experience.
Try it iced on a hot summer day, at the cottage by the lake or have it warm with frothy milk and maple syrup by the fireplace on a cold snowy day. Try it any way it makes you feel Canadian!
Tasting Notes
Certification: Organic
Aroma: Maple
Infusion Aroma: Spicy, maple
Infusion Color: Deep Amber
Base flavor: Spicy
Infusion Strength: Medium

Have you tried Red Maple Spice? Tell us what you think!
Please login or create an account in order to post a review and rating.
That tea with the funny-spelled name -
by Richard Isaac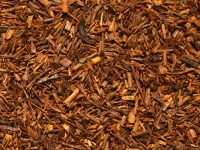 ROY-bus. Though it make not look like it, next time you walk into your favorite tea shop, it's the right way to ask for a cup of that yummy "rooibos" stuff. But the way you say it's just the start—Rooibos, that deliciously sweet herbal blend that seems to be cropping up at every tea (and now, coffee!) shop has got a pretty sweet story, too.
Rooibos, translated from Africaans, means 'Red Bush', a.k.a. 'Bush Tea' or 'Red Tea.' It's a green shrub native to South Africa, grown in a small area in the Cederberg region of the Western Cape Province. Once picked, the shrub's leaves are oxidized, creating that distinct reddish color and signature flavour rooibos is known for. (Of course, if we're talking green rooibos, the leaves don't need to be oxidized. Instead, they're processed more in the manner of traditional green tea. But more on that to come!).
Rooibos is naturally caffeine free, and has been consumed for hundreds of years by the natives of the Cape...