Instructions
Serving Size: 2.5g /cup
Steeping Temp: 100°C
Steeping Time: 5 mins.
Certification: Organic
Origin: South Africa
Caffeine: Caffeine Free
Red Chocolate
Inviting and rich, the warm smell of chocolate greets you as you open the tin and settle in for a cup tea. A rich and smooth blend of rooibos and cacao, this tea is a refined take on the comforting feeling of sipping hot chocolate on a cold day. Can be served with milk.
Tasting Notes
Certification: Organic
Aroma: Chocolate, nutty
Infusion Aroma: Chocolate, berries
Infusion Color: Brownish Red
Base flavor: Chocolate
Infusion Strength: Medium

Have you tried Red Chocolate? Tell us what you think!
Please login or create an account in order to post a review and rating.
Red Lattes - Rooibos-based espresso! -
by Safiya Motala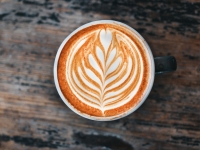 A rooibos latte, or red latte, is a delicious tea latte recipe that uses naturally caffeine-free rooibos instead of coffee. The result is a smooth, rich and complex latte that can be enjoyed any time of day. The natural sweetness of rooibos makes it pleasant without any added sweeteners.
Shanti Tea offers a cut of Espresso Ground Rooibos, or Roospresso, that can be made using your espresso machine! You can enjoy a shot of rooibos espresso, or use it in a latte, or however else you enjoy espresso (affogato perhaps?)
Why? Sometimes you crave a latte, but not looking for the jittery rush of caffeine. Or perhaps you don't drink coffee, but would like an earthy, complex flavour to your tea latte. Finally, you may love espresso, and want something kid friendly so they can feel grown up and enjoy a latte or sip on Roospresso while you enjoy your espresso.
Rooibos is a wonderful tisane from South Africa, where many people consume it similarly to how we prepare black tea (with milk, lemon, honey or similar accompaniments). It comes from...