Instructions
Serving Size: 2.5g /cup
Steeping Temp: 100°C
Steeping Time: 2 to 5 mins.
Certification: Organic
Origin: China
Caffeine: High
Pu-erh (Loose Leaf)
This loose-leaf pu-erh is from the Yunnan Province in southern China, known for is richly earthy teas. This fermented tea is prized for it's digestive health benefits. It is a bold tea with an earthy, slightly mossy aroma (from the fermentation process) and the taste is rustic with pleasantly sweet and chocolaty notes and a fruity finish. Medium tannins with no bitterness. Pu erh can be steeped multiple times. It is great with foods that are oily, high in fat, spicy and garlicky. It also goes well with dark chocolate.
Tasting Notes
Certification: Organic
Grade or Quality: Loose Leaf
Aroma: earthy, mossy
Infusion Aroma: mossy, chocolaty
Infusion Color: dark red-brown
Base flavor: Chocolate

Have you tried Pu-erh (Loose Leaf)? Tell us what you think!
Please login or create an account in order to post a review and rating.
Pu-Erh: A Unique Experience -
by Richard Isaac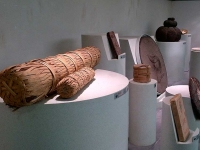 Hailing from a magical-seeming country and boasting a fascinating preparation process, Pu-Erh tea is one of the most unique ways to enjoy one of mankind's oldest hot beverages. Even the name is special: Pu-Erh comes from a trading post that was often used to barter for such products as tea in the Imperial China.
The leaves for this tea are grown on trees in China's Yunnan Province, a gorgeous rolling land covered with greenery, foothills, and mountains. Classically beautiful terraces provide rich earth in which luscious crops grow, waterways wind through misty mountains, and temples sit against cloud-draped vistas.
It is fitting, then, that one of China's most innovative and unmatched teas should come from one of its most sweeping regions. The ripe discs of Pu-Erh are meant to be brewed quite differently from regular loose leaf. Instead of coming in a bag or in a container of unfettered leaves, this tea arrives pressed in a disk and all wrapped up. To make a pot, simply remove...