Instructions
Serving Size: 2.5g /cup
Steeping Temp: 100°C
Steeping Time: 2 to 3 mins.
Certification: Organic
Origin: China
Caffeine: High
Pu-erh (Loose Leaf)
This loose-leaf pu-erh is from the Yunnan Province in southern China, known for is richly earthy teas. Notes of fresh moss are at the forefront of the flavor profile, with a lingering earthy aroma.
Tasting Notes
Certification: Organic
Grade or Quality: Leaf

Have you tried Pu-erh (Loose Leaf)? Tell us what you think!
Please login or create an account in order to post a review and rating.
Pu-Erh: A Unique Experience -
by Richard Isaac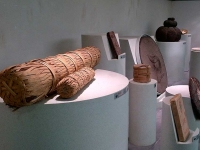 Hailing from a magical-seeming country and boasting a fascinating preparation process, Pu-Erh tea is one of the most unique ways to enjoy one of mankind's oldest hot beverages. Even the name is special: Pu-Erh comes from a trading post that was often used to barter for such products as tea in the Imperial China.
The leaves for this tea are grown on trees in China's Yunnan Province, a gorgeous rolling land covered with greenery, foothills, and mountains. Classically beautiful terraces provide rich earth in which luscious crops grow, waterways wind through misty mountains, and temples sit against cloud-draped vistas.
It is fitting, then, that one of China's most innovative and unmatched teas should come from one of its most sweeping regions. The ripe discs of Pu-Erh are meant to be brewed quite differently from regular loose leaf. Instead of coming in a bag or in a container of unfettered leaves, this tea arrives pressed in a disk and all wrapped up. To make a pot, simply remove...