Instructions
Serving Size: 2.8g /cup
Steeping Temp: 100°C
Steeping Time: 3-5 mins.
Certification: Organic
Origin: Various
Caffeine: Naturally Caffeine Free
Orange Creamsicle
Crispiness of green rooibos enhanced with oranges and mingled with sweet cream flavors, just like a real orange creamsicle. It is excellent hot or iced, this blend screams summertime! Naturally caffeine free and sugar free, it is great for all ages!
Tasting Notes
Certification: Organic
Grade or Quality: Loose
Aroma: Orange and sweet cream
Infusion Aroma: Orange and sweet cream
Base flavor: Citrus

Have you tried Orange Creamsicle? Tell us what you think!
Please login or create an account in order to post a review and rating.
My absolute favorite tea, I love the subtle taste of orange, it is well balanced and not overpowering. My entire family and a lot of my friends are now hooked on this tea!

Submitted by Ely
This tea is awesome!! It has a natural sweetness to it so you don't need much (if any!) sweetener. This would be an amazing ice tea, and it would be great for kids too (I know my niece loves tea parties, and she enjoys it even more when she gets to use real tea, rather than juice or water).

Submitted by GemStone Teas
!!!!!!!!!!!!!!!!!!!!!!!!!!! AHHHHHHMAYYYYZINNNNNNNNNGGGGGGGGG!!!!!!!!!!!!!!!!!!!!! absolutely my fav hands down! My family loved this! my little cousin had a sample and begged for more!

Submitted by Nicholas Canning
Love the smell, very fruity and could be served cold.

Submitted by Gab23131
I absolutely loved the smell, but I wish the taste was a bit stronger.

Submitted by SK
My whole family loves this tea. From age 3-50.
I love it because I can drink it hot or leave a pot and drink it cold.
Just ordered another bag.

Submitted by cor.m.mac@|gmail.com
I love this tea. It taste so good and it made the office smell really good. My coworkers were asking what I was drinking. Will buy this one regularly.

Submitted by Stephanie
Surprisingly subtle

Submitted by Ziasgran
Sugar free? Caffeine free? Delicious? Count me in!

Submitted by paigerama
This tea smells and tastes delicious - very much like an orange creamsicle!

Submitted by LEB
How to make delicious iced tea -
by Richard Isaac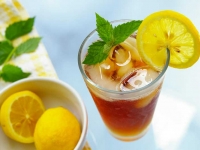 Spring is here, time to break out the iced tea!
There are quite a few methods for making iced tea, selecting the right method really depends on the tea leaves or herbs you are using to make the infusion. You can use any kind of tea or herb to make iced tea, but some are a bit more temperamental and require a bit more attention. Over the past years we've held quite a few iced tea-making workshops so some of our Ottawa customers are probably already familiar with a lot of these iced tea methods, but in case you need a refresher, read on. This guide is intended to help you figure out which method is best for your tea of choice. At the end of the guide will be some links to Shanti Tea's Iced Tea Pouches, which will make iced tea-making this summer deliciously effortless.
Iced Tea Preparation: Read It In The Leaves
The most important factor which determines the method you will be using to make your iced tea...