Instructions
Serving Size: 2.5g /cup
Steeping Temp: 100°C
Steeping Time: 2 to 5 mins.
Certification: Organic
Origin: India
Caffeine: High
Orange Black
Our naturally flavored Orange Black tea is made with a blend of Indian black teas and infused with natural orange flavor and orange peel. The taste is sweet and fruity with the underlying support of a robust black tea. Can be served iced or hot.
Story, Folklore, History...

The Golden AppleGrowing in the mythological garden of Hesperides were "golden apple" trees which granted immortality to those who ate its fruit. Legend has it that these golden apple trees were grown from the fuited branches Gaea gave to Hera as a wedding gift when she married Zeus. These golden apples were in fact oranges, however the Greeks did not yet have a word for it. The word orange was introduced to Europe from the Sanskrit word for orange tree, "Narangah". Incidentally, the color orange is named after the fruit, and not the other way around.
Tasting Notes
Certification: Organic
Grade or Quality: Orange Pekoe
Aroma: Orange
Infusion Aroma: earthy, orange
Infusion Color: Amber
Base flavor: Sweet
Infusion Strength: Medium Strong

Have you tried Orange Black? Tell us what you think!
Please login or create an account in order to post a review and rating.
5 Healthy Iced Tea Recipes to Wow your Summer Guests -
by Safiya Motala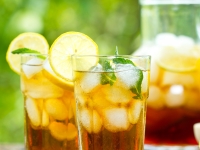 Summer is around the corner, and that means BBQ's, patios, and warm weather. It also means iced tea!
We really have fun with iced tea at Shanti Tea. Combining different teas, adding fruits, potentially adding booze… It's easy to make great iced tea, and it's generally healthier to drink iced tea than any other cold beverage (besides water). Many of our teas are sweet without sugars, so you can enjoy a sweet iced tea if you wish, with zero calories or sugar.
All of these recipes call for sparkling water, you can choose to omit that and just use cold, filtered water instead. Sparkling water is just there for the bubbles.
These are our favourite 5 recipes using healthy, organic ingredients from Shanti Tea.
Banana Colada
Let's start with an easy one. Banana Colada is delicious as is, it's herbal (caffeine-free) and has all the refreshing flavours of the tropics. We made this as a one-time seasonal blend last year, but our customers loved it SO much we brought it back again for another year.
Ingredients:<...
---
Whiskey Chai Toddy -
by Safiya Motala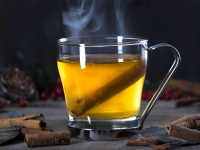 Before we dive into the recipe for our new favourite cold weather warm up, check out some of the history behind this classic brew.
History of the Hot Toddy
Toddies came from India, the fermented sap of the toddy plant, named tari in Hindi. The British brought back a version of this brew, and originally it was served cold. Eventually, this brew was served hot as a comforting beverage with the same mix of spirits and spices.
The hot toddy was based on a Scottish cold remedy of whisky, hot water, and spices such as nutmeg or clove. Suggestions that the name comes Tod's Well, a source of spring water outside of Edinburgh.
In Dublin, Ireland, Dr. Robert Bently Todd would recommend a brew of hot whisky, lemon and cinnamon.
These are just a few theories about the origins of the hot toddy. One other story is that the Hot Toddy was a drink for Scottish women who didn't enjoy the taste of Scotch. In American history, the legend goes that colonists used toddies as a liquid courage during the...