Instructions
Serving Size: 3g /cup
Steeping Temp: °C
Steeping Time: mins.
Certification: Organic
Origin: USA
Caffeine:
Tasting Notes
Certification: Organic

Have you tried Milk Thistle Seed? Tell us what you think!
Please login or create an account in order to post a review and rating.
5 Warming Teatails -
by Safiya Motala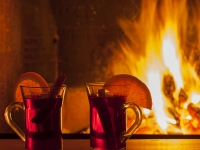 5 Warming Teatails
What is your idea of cozy? A hot cup of tea with a good book? A glass of wine by the fireplace? Or simply, comfy clothes and a strong cocktail?
If these all sound about right, you will love the cozy teatail recipes below. To get started, here is a highlight on a few of the ingredients we're using:
Whisky – Whisky is a pretty easy way to make your drink warming. It has long been used as the beverage of choice to warm up on a cold night, and even used to soothe during times of illness.
Chai – Chai could mean many things, so we're going to use our Chai blend as a reference. Some of the spices in Chai are warming, such as ginger, pepper and cinnamon. Other ingredients are reminiscent of cozy times, such as cloves, that might make you think of the holidays.
Ginger – Ginger is an easy way to make any beverage warming. The spicy, gingery flavour adds a kick to any tea or cocktail.