Instructions
Serving Size: 2.5g /cup
Steeping Temp: 78°C
Steeping Time: 2 mins.
Certification: Organic
Origin: Japan
Caffeine: Medium Light
Japanese Sencha Grade A
This is undoubtedly the finest Japanese Sencha we have tasted to date. A prime example of what makes first flush sencha so sought after: a fine delicate vegetal aroma and taste, followed by an almond finish. Sweet and delicate yet complex and satisfying flavor. Do not use water over 75C or the flavor profile will be vanished.
Tasting Notes
Certification: Organic
Grade or Quality: Leaf
Aroma: Grassy, chestnut
Infusion Aroma: Grassy, almond
Infusion Color: Green
Base flavor: Sweet
Infusion Strength: Medium-strong

Have you tried Japanese Sencha Grade A? Tell us what you think!
Please login or create an account in order to post a review and rating.
How to steep green tea properly -
by Richard Isaac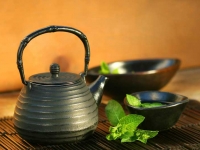 In our workshops we come across a lot of people who didn't previously realize that steeping time and water temperature affect the taste of tea drastically. Just a difference of 15 seconds, or a temperature variance of as little as 2 degrees can make the difference between an exquisite cup of tea and an awfully bitter tea experience.
Green tea, White Tea, and Oolong Tea
Using boiling water to steep tea only works well for black teas and herbal 'teas'. For green, white, and oolong teas, boiling water can burn the tea leaves and make the tea very bitter. Generally there is a range between 75C and 85C for green, white, and oolong teas (see our specific tea product pages for temperature guidelines), but of course most people do not have a thermometer ready to measure water temperature; instead, they will simply wait for the kettle to whistle, then pour water onto the leaves. Again, this is fine for black teas and herbal teas, but there are a few tricks you can use to make sure that your water is closer to the appropriate temperature for your tea.
Method 1: Letting your...