Instructions
Serving Size: 2.5g /cup
Steeping Temp: 78°C
Steeping Time: 2 mins.
Certification: Organic
Origin: China
Caffeine: Medium Light
Imperial Dragonwell ( Long Jing )
One of the ten most famous teas in China. It is said that Long Jing tea is the beauty among all tea. Fresh green 'bird's tongue' shaped leaves create a sweet, aromatic, amber liquor with a lightly floral aftertaste. This superior quality tea is from Jhejiang Province, China and is the preferred drink for many leaders around the world. In fact, a certain percentage of the yearly production of Dragon Well is reserved for government clients.
Tasting Notes
Certification: Organic
Grade or Quality: Leaf
Aroma: Vegetal
Infusion Aroma: Vegetal and nutty
Infusion Color: Pale Gold
Base flavor: Berry
Infusion Strength: Medium-Strong

Have you tried Imperial Dragonwell ( Long Jing )? Tell us what you think!
Please login or create an account in order to post a review and rating.
On the Finer Side Of Dragons -
by Richard Isaac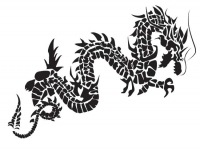 Start by boiling some water, filling a mug with a few pearls of our Jasmine Dragon green tea, and pouring the hot water over them. Watch as they unfurl with grace, and imagine, for just a moment while the smells waft toward you, that a dragon appears when you least expect it. What would your reaction be?
Interestingly, it would probably have a lot to do with your upbringing. In ancient Europe, dragons were fearsome, destructive creatures. However, the dragon is one of the most revered symbols in all of China even today, making regular appearances at festivals, parties and New Year's celebrations as a symbol of luck and happiness.
In ancient times, though, when people believed less in science and more in myth, its power was understood by all to be absolutely supreme. According to legend, the very first dragon appeared to the mythical emperor Fu-Shi in order to right several wrongs that had occurred at the hands of the monster Kung Kung.
Kung Kung, who was said to have rent a huge hole in the sky, was a terrible...