Instructions
Serving Size: 2.5g /cup
Steeping Temp: 78°C
Steeping Time: 2 mins.
Certification: Organic
Origin: India
Caffeine: Medium Light
Darjeeling Green
This is a delicious green Darjeeling from Selim Hill Estate and it is an easy-drinker. It is for the tea enthusiast who appreciates green teas but prefers simplicity and lack of astringency. It does not have the 'biting' green taste that many green teas have. It has a complexity and depth of flavor. The flavor is filled with nuance – it has a lush softness and a buttery body that speaks to Darjeeling enthusiasts. It has many of the same qualities as the black teas of this region, but with an unoxidized leaf.
The fine aroma is fresh, crisp and herbaceous, and suggestive of sage, thyme, and other green herbs. The liquor is light amber in color that perfectly suits the flavor that this tea carries.
Selim Hill Tea Estate is one of India's oldest organic farms, located in Kurseong area and in Darjeeling district. The location of the estate is considered mid-level, and the gardens are perched on a hilly slope with varying elevations that rise up to some 3,500 feet and faces the mountain on its north. There are over 200 workers employed in the garden. Selim Hill was established in 1870.
Story, Folklore, History...

The Story of Darjeeling Tea:Many teas from Darjeeling are considered the world's finest, however the Darjeeling tea plant is actually the small-leaf Chinese species of Camellia sinensis, rather than the broad-leaf Assamese variety. The cultivation of tea in Darjeeling began in 1841, with the planting of the Chinese tea plant by a British surgeon posted there during British rule. Traditionally a black tea, Darjeeling tea gardens have now begun to produce green, oolong, and white varieties. Only tea cultivated in the Darjeeling area can bear the name of Darjeeling.
Tasting Notes
Certification: Organic
Grade or Quality: Leaf
Aroma: Grassy, sweet
Infusion Aroma: Light, sweet
Infusion Color: Light Amber
Base flavor: Vegetal
Infusion Strength: Medium

Have you tried Darjeeling Green? Tell us what you think!
Please login or create an account in order to post a review and rating.
Darjeeling - the "Champagne of Teas" -
by Alicja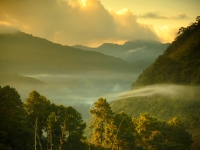 Darjeeling, the land from where the well-known and admired tea comes, famously described as the champagne of teas, is situated in the foothills of the Himalayas, located in the state of West Bengal, India. Ranging from 100-4200 meters, this mountainous region, borders Nepal, Bhutan and Tibet. The cool, damp climate, constant mist and the high elevation of Darjeeling combine to produce a flavor profile typical of Darjeeling. Presently Darjeeling has 87 gardens, spread over 17,500 hectares. It employs over 52,000 people of which 60 per cent are women. The region's economy is heavily dependent on tea. The Plantations Labor Act 1951 protects the rights of tea garden workers. Like Champagne grapes, Darjeeling tea achieved "Geographical Indication" status, protecting the name of "Darjeeling Tea" to be used only on teas produced in that region.
The seasonality of Darjeeling tea, described as flushes, bring out different flavor from the tea that is picked from the same plants during different times of the year.
There are three major tea flushes grown and harvested in Darjeeling:
First Flush (mid-March to May)
Second Flush (June to mid-August)
Third Flush (Autumn Flush) (October to November)
<...